September 30, 2014 by
admin
30 September 2014, Majuro, Republic of Marshall Islands
– Today marked the first formal day of proceedings at the 25th Annual Meeting of the Pacific Regional Environment Programme in the Republic of Marshall Islands. For many participants, the location of this year's meeting - on the beautiful but vulnerable atoll of Majuro - has highlighted the urgency and importance of SPREP's work over the coming 12 months.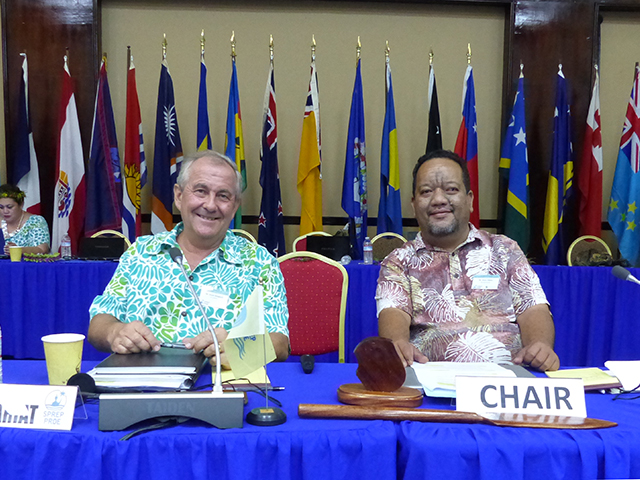 SPREP Director General, Mr David Sheppard, with Chair, Mr Bruce Kijiner, representing the Marshall Islands.
At last night's official opening, the 132 SPREP Meeting delegates, representing 25 countries and territories, were welcomed by local officials including Majuro Councilman Sonny Milne and Acting President The Hon. Wilbur Heine.
In his statement at the opening, The Hon. Minister Heine welcomed all SPREP Meeting delegates to Majuro and wished them well in their pursuit of positive environmental outcomes for Pacific island countries and territories.
In their speeches, both The Hon. Minister and SPREP Director General Mr David Sheppard made reference to Marshallese poet Kathy Jetnil-Kijiner - whose rendition of the poem 'Dear Matafele Peinam' was met with a standing ovation at the recent Special Climate Change Summit in New York. Mr Sheppard remarked:
"Kathy's powerful poem underlined the urgency of the challenges facing Pacific island countries and territories – and the urgent need for concerted international action, including at the 2015 Paris Climate Change Convention Meeting – the outcomes of which will be vital for our region. We must all work collectively, with a sense of urgency and purpose, to address these challenges and support all island countries to become more resilient."
Over the course of the three day meeting, SPREP Members and other official delegates will review the Secretariat's activities over the past year and approve a work plan and budget for 2015 that aligns with their collective vision of a sustainable Pacific environment.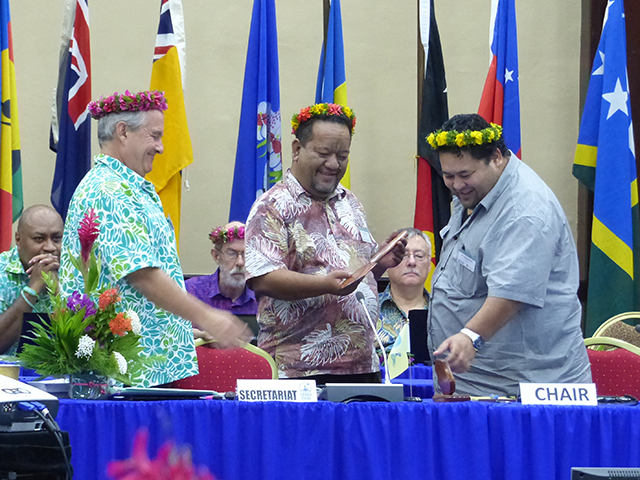 Outgoing Chair, Mr Elkoga Gadabu (Nauru) welcomes incoming Chair Mr Bruce Kijiner (Republic of Marshall Islands) at the 25th SPREP Meeting.
Highlights of today's proceedings included the commendation and endorsement of the 2013 SPREP Annual Report and for the Performance Monitoring and Evaluation Report, presented by Dr Netatua Pelesikoti, SPREP's Director of Climate Change.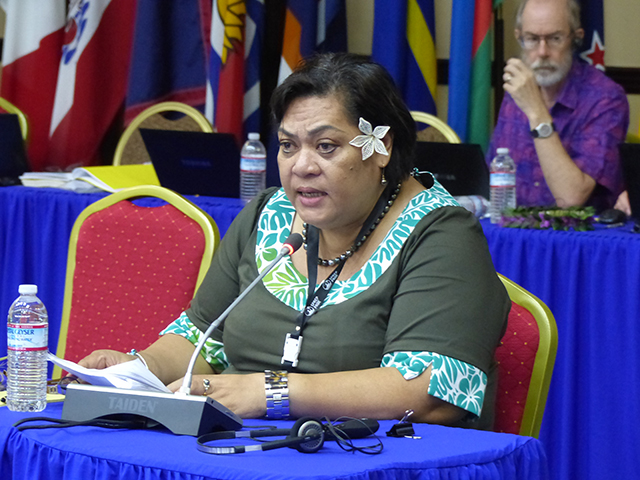 Dr Netatua Pelesikoti presents the Secretariat's Performance Monitoring and Evaluation Report (PMER).
The Annual Meeting will be followed by a High Level Ministerial Segment on Friday at which the three key issues of climate change financing, ocean conservation and management, and follow-up from the third United Nations Conference on Small Island Developing States will be discussed.
Regular updates and photographs from the meeting are being tweeted through
@sprepchannel
and summarised on the SPREP Facebook page.