Climate Change Resilience

12 September 2023, Apia Samoa - Taking a significant step towards enhancing climate resilience and informed decision-making, Vanuatu unveiled the "Vanuatu Climate Futures Portal" at the 31st SPREP Meeting. 
The pioneering web-based platform serves as a comprehensive gateway to climate information services and tools, empowering users with access to cutting-edge science, mapping, data, videos, and a plethora of resources to plan and implement adaptation actions.
The Vanuatu Meteorology and Geohazards Department (VMGD) spearheads this initiative in partnership with SPREP and Commonwealth Scientific Industrial Research Organisation (CSIRO) and NGIS, positioning the portal as its primary operational tool for tailoring national and provincial climate change projections.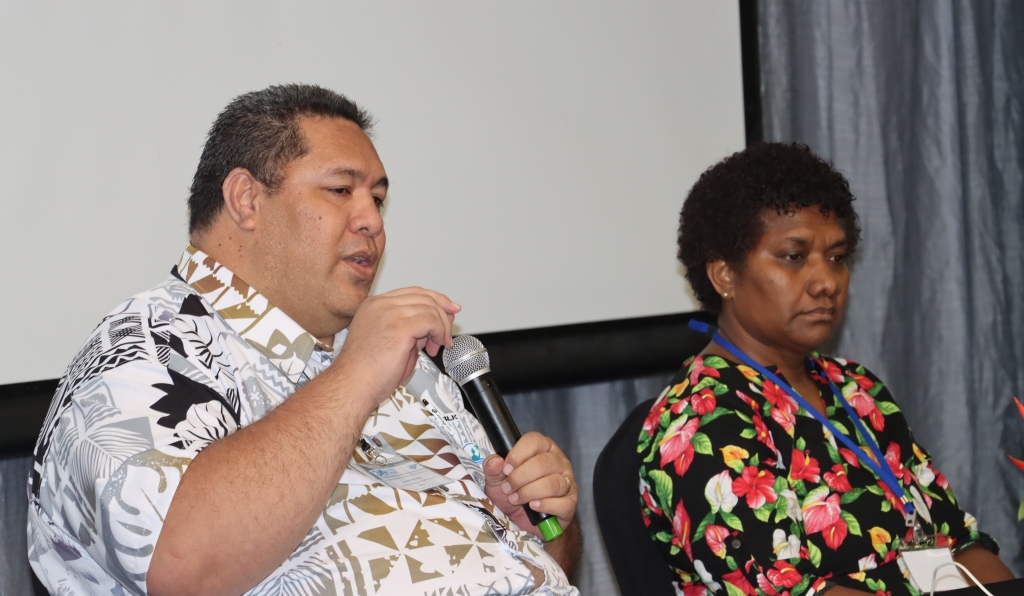 These projections are vital in supporting strategic planning, resilient development, and climate change adaptation initiatives across Vanuatu. The Director General of the Ministry of Climate Change and Vanuatu's National Designated Authority (NDA) to the Green Climate Fund (GCF), Ms Esline Garaebiti, spoke about the benefits of the Portal. 
One of them is the Sector-Specific Insights, where it offers sector case studies for Agriculture, Fisheries, Tourism, Infrastructure, and Water. These studies demonstrate how updated climate change projections, using state-of-the-art CMIP5 and CMIP6 model outputs, inform and guide decisions in climate-sensitive sectors.
Another key feature is that it seamlessly interfaces with existing VMGD and government websites, including the NAB Portal, the Vanuatu Climate Futures Portal ensures ease of access. 
It also incorporates enhanced functionality for analyzing and visualizing multi-decadal Global Climate Models (GCMs) from the Intergovernmental Panel on Climate Change (IPCC), downscaled projections, and sector application-ready datasets for various climate parameters.
This ground breaking tool aligns with the objectives set forth in various strategic documents, including the Vanuatu National Sustainable Development Plan (NSDP) 2016-2023, the Vanuatu Climate Framework for Climate Services, and the Vanuatu Climate Change and Disaster Risk Reduction (DRR) Policy. 
On a regional level, it aligns with initiatives such as the Pacific Islands Meteorological Strategy (PIMS), Pacific Climate Change Science and Research Roadmap and the Pacific Roadmap for Strengthened Climate Services.
The launch event for the Vanuatu Climate Futures Portal featured key speakers and contributors who played a pivotal role in bringing this innovative platform to fruition. 
Mr. Salesa Nihmei, of SPREP, facilitated the event which also featured Mr Sunny Kamuta Seuseu, the Acting Manager of the VanKIRAP Project and Mr. Nathan Eaton, of NGIS. 
The portal significantly enhances the delivery and uptake of climate change science information, ensuring its integration into sectoral and community development strategies. It plays a pivotal role in supporting Vanuatu's risk assessments across all sectors in six provinces. It also serves as a model for future expansion to other Pacific Island countries. 
It also paves the way for a Regional Climate Futures Portal, encompassing all Pacific islands.
This ambitious undertaking was made possible through the collaborative efforts of various stakeholders, including the Climate Information Services for Resilient Development Planning in Vanuatu (VanKIRAP), the Green Climate Fund (GCF), the Vanuatu Meteorology and Geohazards Department (VMGD), the Secretariat of the Pacific Regional Environment Programme (SPREP), the Commonwealth Scientific Industrial Research Organisation (CSIRO), NGIS, and the five target sectors: Agriculture, Fisheries, Tourism, Infrastructure, and Water.
For more information, please visit the Vanuatu Climate Futures Portal at [https://van-kirap.ts.r.appspot.com/dashboard/home]. 
For media inquiries, please contact: Mr. Sunny Kamuta Seuseu at [email protected] 
The 31st SPREP Meeting of Officials and associated meetings are taking place at Taumeasina Island Resort in Samoa this week, from 4-8 September 2023. The meetings are guided by the theme: "SPREP@30th Sustainable, transformative and resilient for a Blue Pacific."
The 31st SPREP Meeting of Officials and associated meetings bring together SPREP's 20 Pacific Island Member countries, 5 Metropolitan Members and partners to discuss strategic issues pertaining to the organisation, and to approve the 2024-2025 work plan. 
The 21 Pacific Island Member countries and territories of SPREP are: American Samoa, Commonwealth of the Northern Marianas, Cook Islands, Federated States of Micronesia, Fiji, French Polynesia, Guam, Kiribati, Marshall Islands, Nauru, New Caledonia, Niue, Palau, Papua New Guinea, Samoa, Solomon Islands, Tokelau, Tonga, Vanuatu and Wallis and Futuna. The five Metropolitan members of SPREP are: Australia, France, New Zealand, United Kingdom and the United States of America.
In our efforts to fulfil our vision of 'a resilient Pacific environment, sustaining our livelihoods and natural heritage in harmony with our cultures', SPREP is extremely grateful to our valued Members, development partners, donors, our CROP family, and stakeholders.
For more information on the 31SM, please contact: [email protected]