Partnership between the Pacific and Japan were strengthened through the Eco-Island Symposium held in Okinawa last week.


Hosted by the Government of Japan (JICA) and the Prefecture Government of Okinawa, the Eco-Island Symposium focused on the management of water and waste in small island countries.


A number of delegates from Pacific countries shared their experience in these areas and were pleased to hear of initiatives in Okinawa in the areas of water management and conservation, renewable energy, and waste management and recycling.


"The eco-island concept is mirrored in SPREP's vision for the future which is: "The Pacific environment, sustaining our livelihoods and natural heritage in harmony with our cultures", said Mr. David Sheppard, the Director-General of SPREP when presenting the keynote address at the Eco-Island symposium.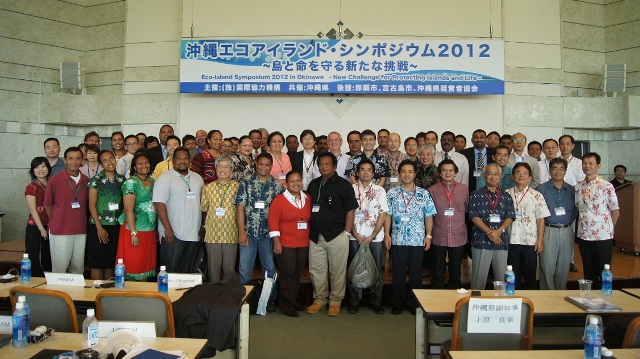 "The challenge for SPREP and the region is to work towards more solutions, which integrate multiple issues, in particular, waste and water management, and which involve the private sector and other key stakeholders.
This Symposium is thus very relevant and timely."


Many significant environmental issues faced by both the island of Okinawa and the Pacific were highlighted during the symposium.


A key conclusion from the Eco-Island Symposium was that "We are all islanders" highlighting the similarities of the challenges faced on island countries.


The Government of Japan is already supporting a number of programmes in Pacific countries, in particular the innovative J-PRISM Project which is supporting improved solid waste management in a number of Pacific countries.


The Symposium noted the potential to develop similar programmes in the Pacific in areas of renewable energy and water management, building on existing Japanese support programmes where possible.


Pacific delegates expressed great appreciation to the Government of Japan for the Eco-Island Symposium and for the positive support for Pacific countries over many years to address pressing environmental issues.