---
Conventional control techniques can be useful when weeds are not yet common and to protect high value sites. However, once weeds become widespread the only safe, cost-effective and sustainable way of tackling them is through the use of natural enemies, which is known as biological control. This regional programme aims to lower the impact of widespread invasive plants by reducing their vigour by introducing safe natural enemies from the area they, and their host plant, originate from. This technique has been used safely and successfully worldwide, including the Pacific, to manage weeds for more than 100 years. Natural enemies have been established on 25 weed species in 17 countries in the Pacific, and there are many opportunities both for spreading existing agents available in the Pacific to new countries, from introducing agents available outside the Pacific, and through developing new options for the Pacific.
---
Leading Technical Partner
Manaaki Whenua - Landcare Research
Manaaki Whenua - Landcare Research, based in New Zealand, is the lead PRISMSS technical partner for this programme. They are acknowledged as a world leader at controlling weeds using natural enemies, and have been involved in Pacific weed issues for a decade. In particular they have recently assisted the Cook Island to control 6 of their most serious weeds and are currently working on a similar programme in Vanuatu. Manaaki Whenua undertakes research to preserve biodiversity and improve biosecurity, and protect the health of the land, fresh water and soil resources needed for a prosperous future. Manaaki Whenua recognises the importance of partnerships, the special role of indigenous people, and the need to ensure that all people have the knowledge, understanding, and tools to truly live in harmony with the environment. As well as being a leading research provider in New Zealand, Manaaki Whenua is recognised for its contribution internationally. Given its geographic location Manaaki Whenua has a special interest in, and a long history of, working in the Pacific Region. This includes land-use planning and working on constraints to production in rural terrestrial environments, characterising native and introduced biodiversity (Manaaki Whenua is the guardian of a significant collection of Pacific flora and fauna), and assisting with invasive species management (including currently the development of biological control for key weeds in the Cooks Islands and Vanuatu). Manaaki Whenua recognizes that international collaboration is essential for improving biosecurity in the Pacific Region. 
Current Projects:
Vanuatu is using natural enemies for widespread weeds
---
Resources
Workshops

&

Webinars

NENS Workshop - March 2021 (playlist)
Pacific Battler Lounge | Weeds or Resilience: Restoring nature's services (full webinar)
Learn more about the philosophy behind Natural Enemies - Natural Solutions (NENS), successful projects in the region and the processes involved to facilitate a NENS programme in your country.
This Pacific Battler Lounge webinar dives into finding out more about invasive weeds, their impacts on nature, and how natural solutions can build climate resilience.
Tools


NENS Options
The Battler Resource Base (BRB) for knowledge resources on Biological control in the Pacific
The Natural Enemies Natural Solutions (NENS) programme has created a new web resource to help inform decisions about NENS activities and biocontrol for Pacific weeds

Photo Credit: © Manaaki Whenua - Landcare Research
---
Do YOU need assistance?
To request technical assistance for the "Natural Enemies Natural Solutions" Regional Programme, please complete the PRISMSS Request Form  or email [email protected] for any queries.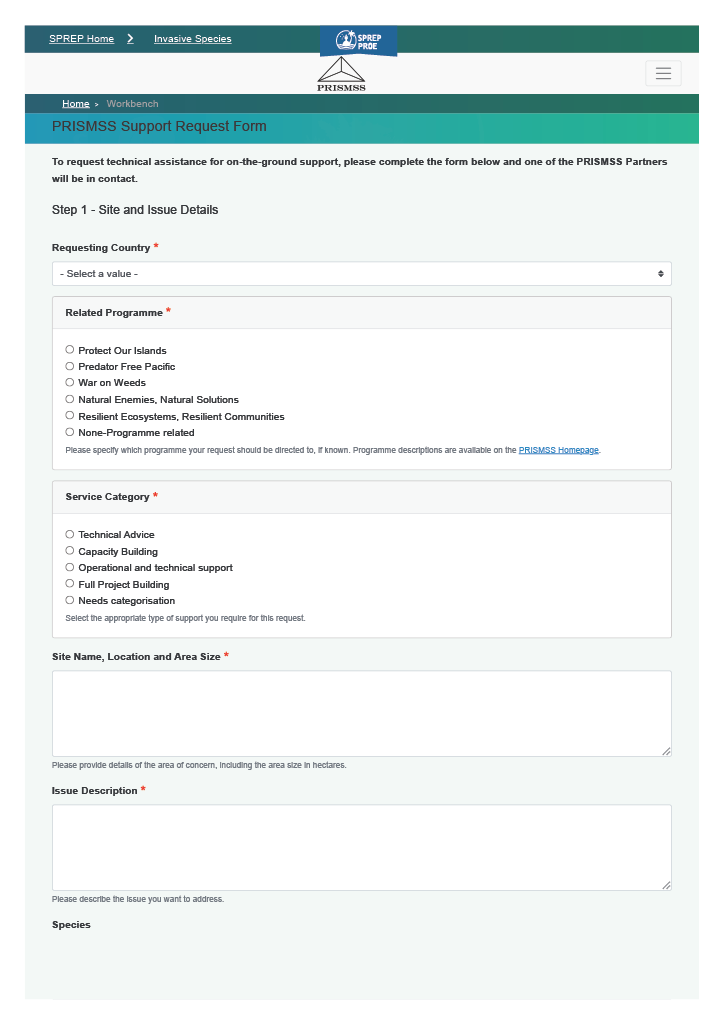 Click to view Request Form