Waste Management and Pollution Control
3 May 2012, World Press Freedom Day – Celebrating the role of Pacific media in raising environmental awareness is at the core of the annual Vision Pasifika Media Award. This year the theme for the award is "Clean Pacific".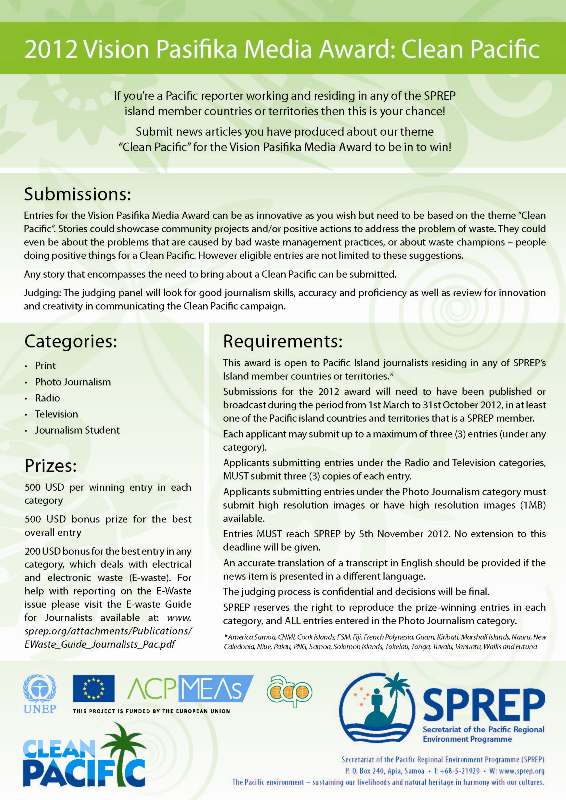 This special award solely for media is coordinated by the Secretariat of the Pacific Regional Environment Programme (SPREP) to acknowledge the efforts and contributions of the media in bringing about a better environment for all.
This cash prize award is in its fourth year running and is growing in interest.
"We thought what better time to launch this award than on World Press Freedom Day," said Nanette Woonton, the Media and Public Relations Officer of SPREP.
"In the past we've received hundreds of entries for these awards and this year, we anticipate many more, it's on a theme that affects us all - in our homes, schools, work and communities. We'd really like to see entries submitted in the Radio category as that is a crucial media tool in our Pacific communities."
The award is open to Pacific island journalists residing in any of the SPREP island member countries or territories. You can enter up to three different entries that must have been published or broadcast in national or regional media between 1 March and 31 October, 2012.
This year there are five categories each with a cash prize of USD 500 each: Journalism Student, Photo Journalism, Print, Radio and Television. There will be a bonus prize of USD 500 for the overall best winning entry and an extra bonus prize of USD 200 for the best entry in any category that is about electrical and electronic waste (E-waste).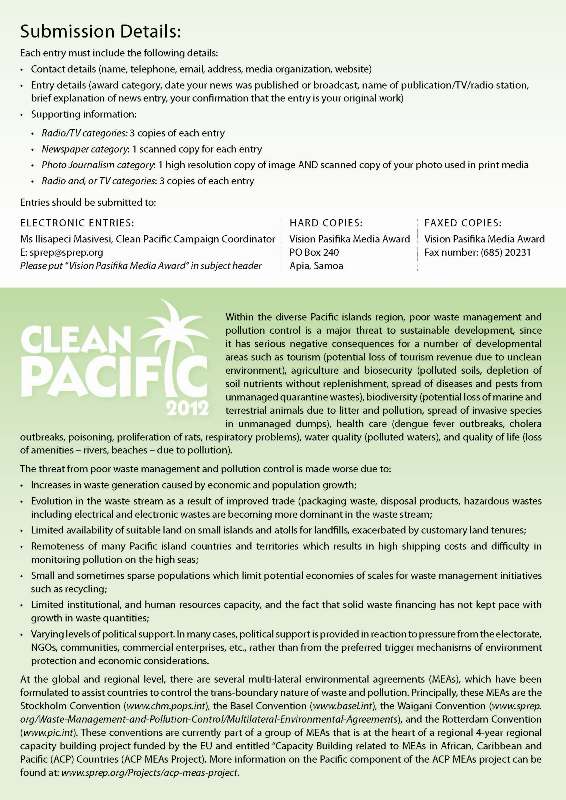 To help provide guidance and support with producing news articles on E-waste, SPREP has prepared the E-waste for Journalists guide to covering electrical and electronic waste in the pacific.
"Clean Pacific is a theme that impacts us all," said Ms. Esther Richards, SPREP's Solid Waste Management Adviser, "we all have a role to play in managing our waste to ensure that we protect our health, our environment, and our children's future. This could be as simple as choosing to buy less packaged goods, refusing plastic bags when shopping, composting our vegetable and yard waste, and recycling our cans and bottles where possible."
"I encourage those who are interested to do their research and go out into the communities to report on how waste and pollution are affecting people's daily lives, find out what's being done, or not being done to solve the problems, and why."
The results of the 2011 Vision Pasifika Media Award will be announced at the end of this week.
This award is a partnership with the SPREP-UNEP-EC project "Capacity building related to Multilateral Environmental Agreements (MEAs) in African, Caribbean and Pacific (ACP) countries".
Click for more information on the 2012 Vision Pasifika Media Award or contact Ms Ilisapeci Masivesi.