September 21, 2016 by
admin
The second phase of a Pacific regional project funded by the Japan International Cooperation Agency (JICA) to improve solid waste management was launched in Niue during the 27th Secretariat of the Pacific Regional Environment Programme (SPPREP) Meeting.
The regional cooperation framework for the Japanese Technical Cooperation Project for Promotion of Regional Initiative on Solid Waste Management in Pacific Island Countries, known as J-PRISM II, was signed by nine participating countries as well as the JICA and SPREP.
JPRISM II will officially commence in December 2016.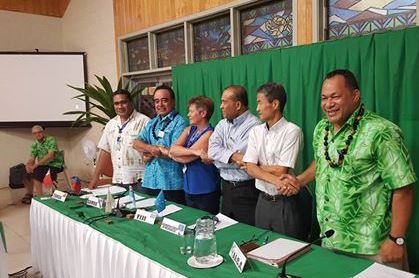 Signing of the Regional Cooperative Framework for J-PRISM II at the 27th SPREP Meeting. Photo: M.Guinto/SPREP
"Since the Government of Japan pledged its assistance to Pacific Island Countries in the field of solid waste management at the second Japan-Pacific Leaders' Meeting (PALM) in 2000, JICA has supported the improvement of solid waste management both bilaterally and regionally in the Pacific region in collaboration with SPREP, which is long lasting support over more than 15 years," said Mr Kunihiro Yamauchi, Director General, Global Environment Department, JICA.
"I would like to express the hope that this Regional Cooperative Framework for J-PRISM II will help to further cement networks among all stakeholders including Pacific island nations, other donors and international agencies in line with Cleaner Pacific 2025 as well as
Clean Pacific Roundtable
to promote Pacific-Pacific cooperation. JICA is very keen to continue supporting Capacity Development in the Pacific region".
The first phase of J-PRISM took place from 2011 – 2016. The J-PRISM II has four main components aligned with the
Cleaner Pacific 2025 (Pacific Regional Waste and Pollution Management Strategy)
as well as the outcomes of the Clean Pacific Roundtable held in July 2016 in Suva, Fiji.
The key regional areas of focus are capacity development, disaster waste management, strengthening of regional recycling networks and the development of a monitoring and evaluation framework for Cleaner Pacific 2025.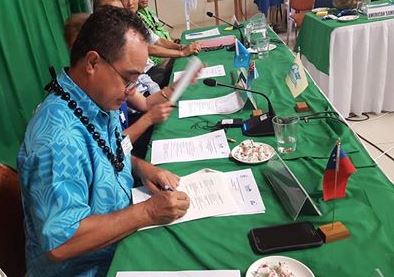 Suluimalo Amataga Penaia of Samoa, signs the Regional Cooperative Framework for J-PRISM  II
at the 27th SPREP Meeting. Photo: M.Guinto/SPREP
"It is important that we consolidate the Pacific platform for sustainable waste management from the viewpoint of the Sustainable Development Goals and the SAMOA Pathway, which was encouraged by the first phase of the J-PRISM," said Mr. Yamauchi.
"We look forward to continue working with SPREP and our 9 focus countries to make this a reality."
The formulation of J-PRISM II involved more than 200 interviews with key project stakeholders across the region. This process, which also involved surveys across all Pacific island countries, has ensured that the J-PRISM II project design reflects the needs of Pacific island countries.
Mr. Kosi Latu, Director General of SPREP, all representatives from member countries and Mr. Yamauchi signed the official document on Regional Cooperation Framework for J-PRISM II for the future sustainable development in the Pacific Region at Millennium Hall in Niue on 19 September 2016.
The
27th SPREP Meeting
is hosted in Niue from 19 – 22 September, 2016. It began with the Pacific Environment Forum which was held on 17 September, 2016