November 19, 2013 by
admin
Wednesday 20 November 2013, Secretariat of the Pacific Regional Environment Programme (SPREP) and Secretariat of the Pacific Community (SPC)
 –
  The Government of Kiribati's 'whole-of-island' team has returned to Abaiang atoll to present the findings of an integrated vulnerability assessment undertaken in September 2013.
The assessment considered strengths and vulnerabilities in the water, fisheries, agriculture, education, health and energy sectors as well as gender and governance dimensions from a climate change adaptation and disaster risk management perspective.
Now, in November 2013, the Abaiang Participatory Planning Workshop has taken place to inform the development of an Abaiang Whole of Island Progamme of Action and the 2014-2017 Abaiang Island Council Strategic Plan. Over 168 Abaiang residents attended the workshop, including representatives from villages, schools, health centres, the Council and the Island Development Committee.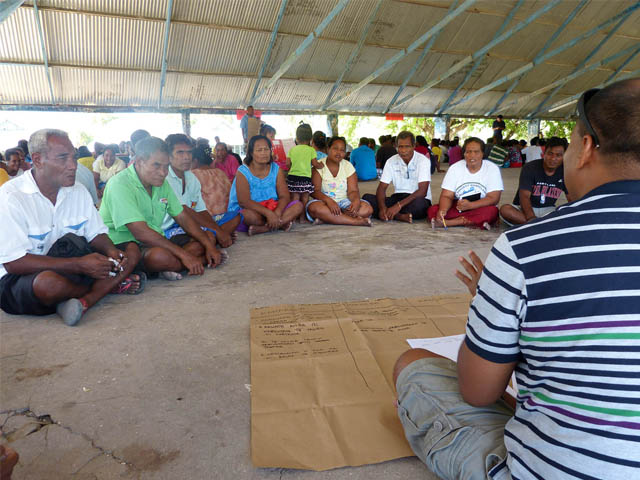 Whilst in Abaiang, Choi Yeeting, National Climate Change Project Coordinator at the Office of the President, said, "There are a lot of people with different ideas who really want to contribute to the development of Abaiang. That is something that is very valuable to us in Government, so we can all work together."
From each village, at least one representative from the unimwane (village elders), women's groups, youth groups, churches and the private sectors travelled to Taburao, where the Abaiang Island Council is based, to plan and prioritise actions for consideration over the course of a one-week workshop. This process was facilitated by 13 Government of Kiribati sector experts, supported by staff from the Secretariat of the Pacific Regional Environment Programme (SPREP), the Secretariat of the Pacific Community (SPC), Deutsche Gesellschaft für Internationale Zusammenarbeit (GIZ) and the University of the South Pacific (USP).
Toki Bakineti, Principal Agricultural Officer at the Kiribati Ministry of Environment, Lands and Agricultural Development said, "There are many challenges I can see on Abaiang; our testing confirmed that the soil is quite unproductive there and we need to look at how we can help these people to manage their crops and soil to ensure food security."
The assessment findings were verified and confirmed by the community representatives and then presented for incorporation into the 2014-2017 Abaiang Island Council Strategic Plan, a draft strategy presented by the Ngaluenga Iatakee, the Mayor of Abaiang.
"We would like to say thank you very much for the support to complete our Strategic Plan to develop our island in the future. It is very important for not only the Island Council, but also for all the communities of Abaiang," said the Honourable Mr Iatakee.
When reflected in the Plan, these actions will enable a broad range of government and development partner programmes to contribute towards the Island Council Strategic Development Plan vision of: ''Abaiang Today for a Better Tomorrow".
The whole-of-island approach is supported by the SPC, GIZ, SPREP andUSP programmes on climate change. This 'Whole of Island' programme is made possible by generous support from the German Ministry for Economic Cooperation and Development (BMZ); the European Union; the United States Agency for International Development; and the Government of Australia.