Island and Ocean Ecosystems
By Makereta Komai, PACNEWS Editor in New York
5 June 2017, UN Ocean Conference, New York
- The first global oceans conference in New York opened with messages of optimism and hope that all countries will mobilise its 7.5 billion citizens to take up the global fight to improve the quality of the world's oceans.
Prime Minister of Fiji, Voreqe Bainimarama calling the meeting to order after his appointment as co-chair of the first ever UN conference in oceans, said, "We are all at risk and no one country, no one government can afford to ignore the magnitude of the current threat."
He urged world leaders delegates and other stakeholders present in New York this week to stop the degradation of the world's oceans and roll back the tide of neglect and preserve marine resources for the future generations to come.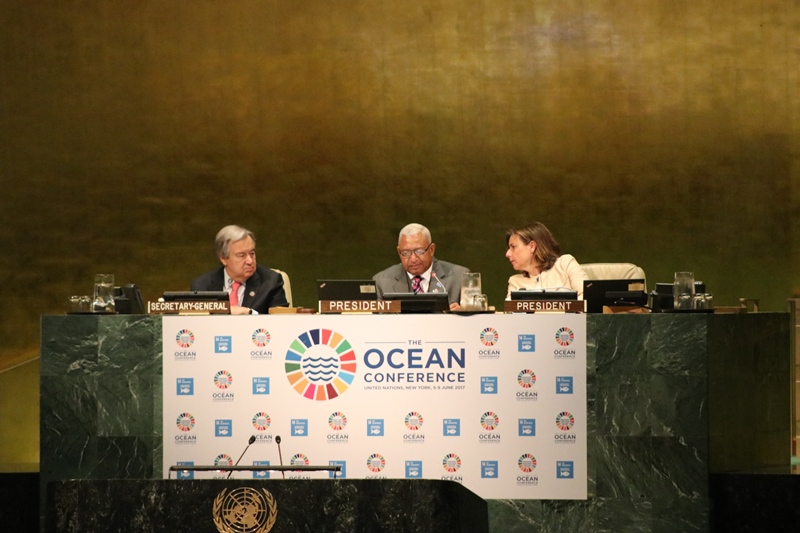 Prime Minister of Fiji, Voreqe Bainimarama, (middle) co-host of the UN Ocean Conference. Photo: SPREP
"I particularly want to appeal to young people across the world to do what you can to highlight this crisis and become an agent for change - whether it is collecting plastic bottles from a beach or binding together to clean up our coastal areas. Every single person in the world can make a difference."
Bainimarama said much of what we dispose of carelessly, finally ends up in our seas through storm water drains, creeks and rivers.
""Our waterways are choking. Our seas and oceans have become vast rubbish dumps. And the creatures who live in them are suffering acutely - turtles, dolphins and sharks caught in netting, whales with stomachs full of plastic bags and other rubbish. Humankind is slowly killing off one of our most precious resources - the rich bounty of our seas and oceans that generations across the millennia have relied upon for sustenance, and to earn a living.
"Here in New York this week, let us send a clear message to the whole world. That time is running out to save our seas and oceans. Just as it is running out to decisively tackle the fundamental causes of climate change.
PM Bainimarama acknowledged his fellow Pacific leaders who played a key role in placing oceans on the global agenda.
"We stood side by side at our preparatory meeting in Fiji back in March, and we stand side by side in New York this week, said Bainimarama.
He was also encouraged by the 600 voluntary commitments registered before the Oceans Conference from governments, civil society organisations, inter-governmental organisations and individuals to address the crisis.
"We seek a commitment from all 7.5 billion people on earth to join our crusade to improve the quality of our oceans. Let us all seize this moment in history to make a difference. To place Sustainable Development Goal 14 (SDG 14) at the very top of the global agenda alongside decisive climate action. We can do it. We must do it. Because the alternative in both cases is catastrophe, said Bainimarama.
The voluntary pledges are expected to go up further this week as heads of state and government and ministers join ocean leaders, experts, businesses, and civil society organisations to discuss solutions that restore the health of the world's ocean. The commitments target a wide range of ocean problems, ranging from protecting coral reefs, strengthening sustainable fisheries, reducing plastic pollution, and addressing the impacts of climate change.
The Conference will result in a Call for Action agreed to by countries and will be formally adopted at the conclusion of the Conference on Friday. Additional outcomes include the results of seven partnership dialogues that will focus on solutions, and the voluntary commitments to action. – M.Komai/SPREP