September 3, 2014 by
admin
Samisoni Pareti, Group Editor-in-Chief, Islands Business Magazine
2 September, 2014, Apia, Samoa -
The head of the UN Framework Convention on Climate Change Ms. Christiana Figueres believes the blue green economy concept is not an option for small atoll nations, but it is the only option they have.
Speaking at a side event of the Third International Conference on Small Islands Developing States currently underway in Apia this week, Ms Figueres said given the threats posed by climate change, a blue green economy is the only concept that would guarantee growth.
                             Ms Christina Figueres, Executive Secretary of the UNFCCC


"Because blue green economy puts environment back into the centre of the economy, and no longer is environment left by the side as it used to be in past," said the UNFCCC Executive Secretary.
Kiribati's Minister for Communications, Transport and Tourism Development Hon. Rimeta Beniamina spoke about the burden of addressing the impact of climate change in his atoll nation.
"While we are still trying to adapt to the impact of climate change, we now have to transit to a green economy. It can be a heavy burden on our small economies."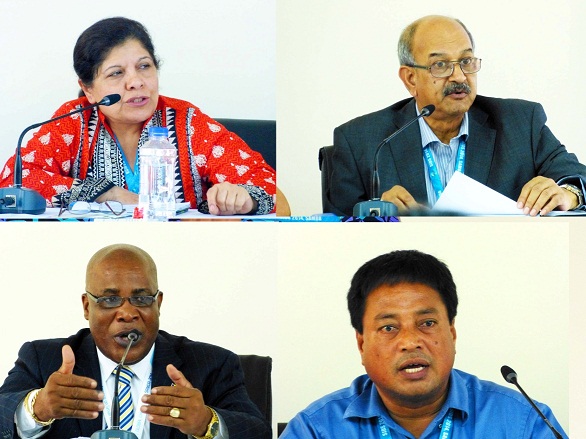 Four of the panel members: Ms. Shamshad Akhtar, Executive Secretary, UNESCAP (top left) H.E. Devanand Virahsawmy, Minister of Environment and Sustainable Development, Republic of Mauritius (top right) H.E. Denis S. Lowe, Minister of Environment Barbados (bottom left) and H.E. Rimeta Beniamina, Minister for Communications, Transport & Tourism Development, Republic of Kiribati  (bottom right)
Hon Rimeta said declaring 400,000 square kilometres of their ocean a marine park in which commercial fishing is banned and to be known as the Phoenix Island Protected Area is part of his government's green economy initiatives.
The side-event was called SIDS Pathway to a Green Economy, jointly convened by ESCAP, the UNFCCC, the Pacific Islands Development Forum and SPREP – the Secretariat of the Pacific Regional Environment Programme.
Barbados' environment Minister Dr The Hon. Denis Lowe spoke about the push towards a green economy through its coastal protection and waste management programmes. He said the island is moving away from using landfills, converting these into biogas, which produces up to 40 megawatts of energy.
"We produce 100 tonnes of waste in a day, and at this rate, there will be no more land for us in Barbados," said Minister Lowe. "This is why waste management is critical."
As a way forward, Barbados called for the formation of a SIDS green economy partnership as well as a SIDS green economy exchange scheme.
Mauritius Minister Hon Devanand Virahsawmy cautioned that in the transition to a green economy, SIDS must not lose sight of the main objective of poverty alleviation. People must not suffer in the process.
For his country, Minister Virahsawmy said Mauritius has launched an energy programme whereby sugarcane products of biogas and fibre are being produced. Energy from the sun, wind and deep-ocean are also being explored.
The SIDS Pathway to Green Economy side event took place on Tuesday 2 September at the UNSIDS conference venue in Samoa.