December 8, 2022 by
Sosikeni Lesa
Island and Ocean Ecosystems
07 December 2022, Montreal, Canada - The 15th Conference of the Parties to the Convention on Biological Diversity (COP15) in Montreal is underway with the host country Canada showing leadership with a commitment to protect thirty percent of its lands and waters by 2030, and an announcement of CAD $350 million to support developing countries to take action on nature conservation.
Canada's Prime Minister, Hon. Justin Trudeau made the announcement during the opening ceremony at the Palais des Congress Convention Centre on Tuesday, where Pacific delegations are among 10,000 delegates from more than 190 countries and member states, engaging in important negotiations to seal a landmark agreement, the Post-2020 Global Biodiversity Framework, aimed to halt and reverse nature loss.  After more than two years of COVID-19 pandemic delays, Hon. Trudeau said COP15 could not be postponed any longer.
"The fight to protect nature has never been more important than it is right now," Prime Minister Trudeau said. "When people think of Canada, they think of our landscapes and the richness of our nature – part of who we are.  Today, we welcome the world to Montréal to continue working together to make sure the planet we leave to our kids and grandkids has clean air, clean water, and an abundance of nature to enjoy."
He highlighted the importance of progress, protection and partnerships, saying this should be the focus of all the delegates.
 "We have to halt and reverse biodiversity loss by 2030, that's what every government leader should be telling their delegates and negotiators," he said. "There are lots of disagreements between governments but if we can't agree as a world on something as fundamental as protecting nature, then nothing else matters."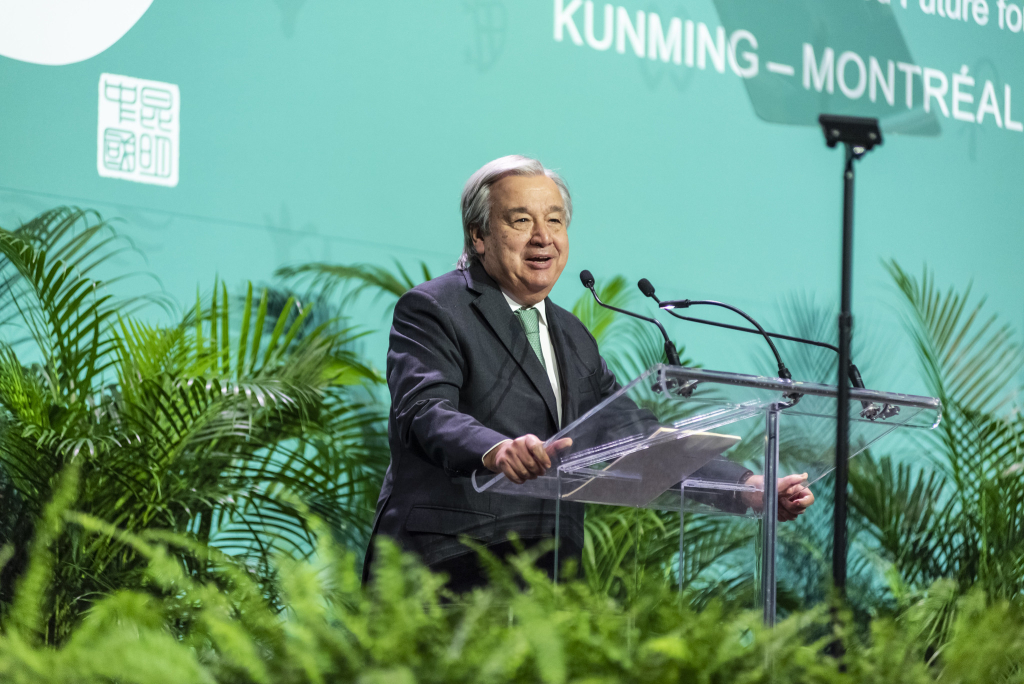 The Secretary General of the United Nations, Mr António Guterres, said while nature is supposed to be humanity's best friend, it seems that humanity is waging war on nature, destroying our life-support system. Like the impact of the climate crisis, he said those "least responsible for this destruction," including Pacific countries, are always the first to feel the impacts.
He pointed to the impact of deforestation and desertification and how they are creating wastelands of once-thriving ecosystems. Land, water and air are poisoned by chemicals and pesticides, and choked with plastics. Unsustainable production and consumption are sending emissions skyrocketing, and degrading the land, sea and air. Plants, mammals, birds, reptiles, amphibians, fish and invertebrates —are all at risk. A million species teeter on the brink. Ocean degradation is accelerating the destruction of life-sustaining coral reefs and other marine ecosystems — and directly affecting those communities that depend on the oceans for their livelihoods.
"Multinational corporations are filling their bank accounts while emptying our world of its natural gifts. Ecosystems have become playthings of profit. With our bottomless appetite for unchecked and unequal economic growth, humanity has become a weapon of mass extinction," said Mr Guterres.
"We are treating nature like a toilet. And ultimately, we are committing suicide by proxy."
According to Mr Guterres, COP15 must come up with nothing less than a bold post-2020 Global Biodiversity Framework, one that should reverse the biodiversity apocalypse, addresses the root causes of the destruction, supports other global agreements aiming to protect our planet and one with clear targets, benchmarks and accountability.
"No excuses. No delays. Promises made must be promises kept. It's time to forge a peace pact with nature. This requires three concrete actions," said the Secretary General. 
"First, governments must develop bold national action plans across all ministries, from finance and food, to energy and infrastructure. Plans that re-purpose subsidies and tax breaks away from nature-destroying activities towards green solutions like renewable energy, plastic reduction, nature-friendly food production and sustainable resource extraction.
"Plans that recognise and protect the rights of Indigenous peoples and local communities, who have always been the most effective guardians of biodiversity. And National Biodiversity Finance Plans to help close the finance gap."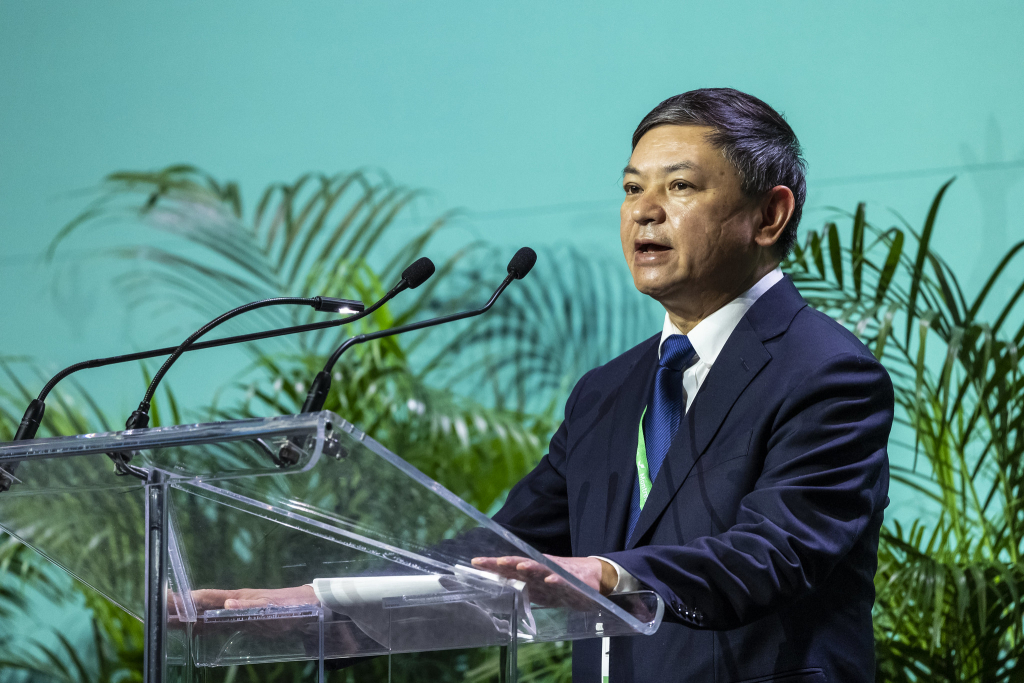 Originally planned for Kunming, China in 2020, COP15 was postponed due to the COVID-19 pandemic and later split into a two-part event.  Part 1 was held in Kunming last October while the decision to relocate the conclusion of COP15 to Montreal was made by the Bureau of the Conference of the Parties, in consultation with the CBD Secretariat and the Governments of China and Canada.
COP15 President and China's Minister of Ecology and Environment, Hon. Huang Runqiu, said COP15 is a global opportunity to protect biodiversity and protect human lives, pointing out that the unprecedented loss of biodiversity is a shared loss.
"We are at a crossroad, we need to be decisive in terms of the decisions we make here in Montreal," he said. "We need to come together with one heart and one mind, if we can do this, we can achieve whatever we want."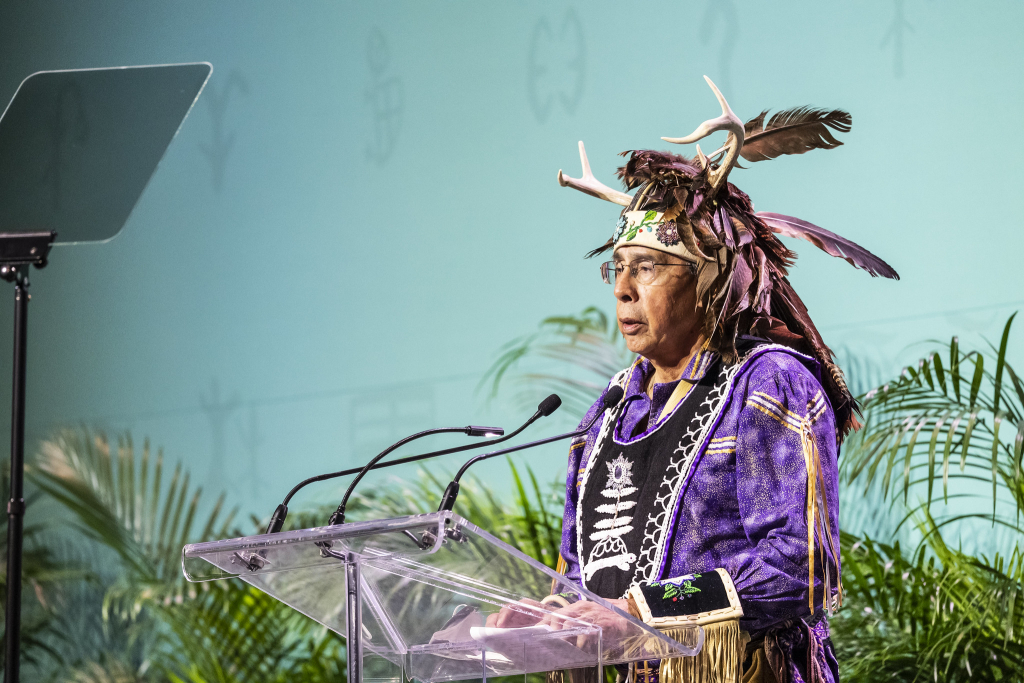 The opening ceremony started with a cultural welcome by the traditional Chief of the Onondaga Nation, Tadodaho Sid Hill. Other speakers included the Premier of Quebec, Mr François Legault, the Mayor of Montreal, Ms Valérie Plante and the Mayor of Kunming, China, Mr Liu Jiachen.  Delegates were also treated to a cultural performance by Canada's National Arts Centre featuring dancing, music and traditional singing and chanting, followed by an opening reception hosted by China.
The CBD COP15 is guided by the theme "Ecological civilisation – Building a shared future for all life on earth."
Click here to find out more about CBDCOP15.
The Fifteenth Conference of the Parties to the UN Convention on Biological Diversity (CBD COP15) is held in Montreal, Canada from 7 – 19 December 2022.  Chaired by the Government of China, the CBD COP15 will result in a new Global Biodiversity Framework that will continue the 2020 Biodiversity Targets with the global goal of halting biodiversity loss.
Fourteen Pacific Islands countries are Party to the CBD. They are contributing to a unified One Pacific Voice on collective issues at COP15. The countries present in Montreal are the Cook Islands, Federated States of Micronesia, Fiji, Kiribati, Niue, Nauru, Palau, Papua New Guinea, Republic of the Marshall Islands, Samoa, Solomon Islands, Tonga, Tuvalu and Vanuatu.
Led by the Secretariat of the Pacific Regional Environment Programme (SPREP), support to Pacific island countries has been implemented with technical input through the Pacific Islands Roundtable for Nature Conservation (PIRT),  and includes a One Pacific approach involving support from the Office of the Pacific Ocean Commissioner, and the Pacific Community at COP15 with financial assistance from the Government of Australia and the ACP MEA Phase 3 Project funded by the European Union and the Organisation of African, Caribbean and Pacific States for the ACP countries. 
For more information on the CBD COP15 please visit: https://www.cbd.int/conferences/2021-2022 or email [email protected]
PHOTOS CREDIT: UN Biodiversity Album Flickr