Climate Change Resilience
By Bradford Theonomi for Island Sun, Honiara
COASTAL EROSION along Pelau Island of Ontong Java is now a major concern as a Vulnerability and Adaptation Assesment Report revealed the sea level rise negatively impacting the area.
The report was from the Pacific Adaptation to Climate Change (PACC) Project recent V&A Assessment of the island.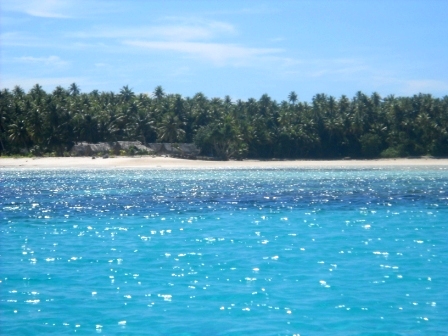 PACC National Project Coordinator Casper Supa said that the problem has become something the people on the island have begun to ponder on.
He said rising sea level causing salt water intrusion into the island have great impact on the food security and food production and available fresh water for the villagers, forcing people to survive on water tanks which are only effective during rainy seasons.
"There is a high possibility the people of Pelau need to be relocated to a place suitable for survival.
"Ava village is one of the very significant villages that have lost portion of its part over the years and left with only five houses standing.
"With about 20 meters above sea level, and no mountainous areas, the island is vulnerable to further natural impacts in the near future.
"This however will depend entirely on the government to consider and deliberate on the matter."
Supa said people on the island are keen to cooperate with the PACC Project which is very positive, however there are mixed reactions on the relocation if given the opportunity.