Welcome to Samoa and welcome to the SPREP Campus.


I mention the word campus rather than compound as over the last few years SPREP has been increasingly welcoming many partners with similar objectives to base their teams here.


In this context, I am happy to note this workshop is an activity funded under a joint partnership between SPREP and the Asia Pacific Adaptation Network, known as APAN.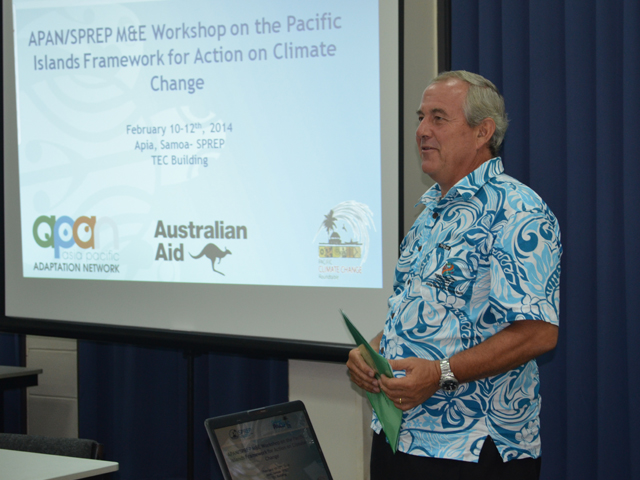 Mr. David Sheppard - Director General, SPREP
APAN supports climate change adaptation activities in the Asia Pacific Region and SPREP has been delighted to have been the Pacific Regional Node of APAN since 2011.


We carry out this work on behalf of our 21 Pacific Island Member Governments, as well as for our sister CROP organizations.


Additional funding for this workshop was also provided by the Government of Australia, through its International Climate Change Adaptation Initiative (ICCAI), which has been supporting monitoring and evaluation for climate change over recent years. We have been proud to have members of the ICCAI team based here at SPREP for a number of years.


This week's workshop focuses on the Pacific Island Framework for Action on Climate Change, PIFFAC, a Framework document which sets out the Pacific regions priorities for addressing climate change.
Pacific leaders have consistently identified climate change as the major challenge facing the Pacific region and in fact have noted climate change is an issue of national security.


As an important response, Pacific leaders endorsed the PIFFAC in 2005, to guide the our approach to climate change.


It is thus a very important document.


The vision of the framework is as valid today as when first adopted and is: 'Pacific Island people, their livelihoods and environment resilient to the risks and impacts of climate change'.


In fact, this vision guides all of SPREP's work on climate change.


An important element of our work on PIFACC is monitoring and evaluation. This is largely done through the Pacific Climate Change Roundtable, which every two years brings together countries, stakeholders, including academia and partner agencies, to work together on climate change. This work is also supported through targeted Working Groups of the Roundtable, including one on adaptation.


SPREP has also been working on the Monitoring & Evaluation Framework for PIFACC , and since 2012 has had a full time Monitoring and Evaluation Officer in our Climate Change Division, Rodney Lui.


This week's workshop will focus on six areas:


1) Reviewing progress made at the national level with PIFACC, including national governance arrangements for implementing climate change policies and activities
2) Finalizing climate change country profiles as tools for the monitoring and evaluation of PIFACC
3) Enhancing your practical understanding of the PIFACC M&E Framework, as well as M&E in general
4) Documenting lessons learned through the implementation of PIFACC since 2005
5) Raising awareness of the Asia Pacific Adaptation Network and its work in the Pacific
6) Increasing understanding of the new strategy which is currently being developed which will integrate disaster risk management and climate change


This week's workshop will be interactive and busy - I'm afraid we have bought you here to work !


In particular we want your views and feedback on the PIFFAC - what has worked, what hasn't, and how we can learn from this for the next Strategy. We also will be seeking your input to individual country profiles.


This workshop will introduce you to some of the M&E tools SPREP has developed, to enhance your ability to address climate change issues in your countries. There will also be working sessions focusing on the Climate Change Portal - a tool which provides our member countries with up to date and relevant information on climate change.


We will also be bringing in expertise not only from across the Climate Change Division of SPREP, but also communications, and we invite you to use your time at SPREP to take the opportunity to familiarize yourself with the campus and to also visit other Divisions, including the Library and Resource Center.


As a general comment I would note that SPREP is strengthening its work on monitoring and evaluation and will soon be recruiting a SPREP M&E Officer. We are doing this because monitoring and evaluation is a key ingredient of a "Learning Organisation".


It is vitally important to learn from our experience and ensure these lessons are applied in the development of new, and revision of existing, programmes at SPREP.


It is also important to evaluate the impact of SPREP's work in our Pacific Island Member, so we can continually improve the services and support we offer to Pacific countries and territories.


I see the work you will be doing over the next few days as a vital component of SPREP's M&E work and I'm looking forward to reviewing the outcomes of this important workshop.


In closing, I would like to thank APAN and the Australian Government, through ICCAI, for their support for this workshop.


I would also like to thank you all for attending and wish you all the best for an interesting and enjoyable workshop.


Thank you, Fa'afetai Tele Lava