Climate Change Resilience
20 April 2023, Suva Fiji - The European Union funded GCCA+ Scaling Up Pacific Adaptation project's work to enhance climate change adaptation and resilience in the region turned its attention to communities in Fiji during a two-week mission from 27 March until 6 April 2023.
The GCCA+SUPA Impacts Analysis Adviser, Ms Monifa Fiu and Information Research Officer, Ms Gloria Roma in coordination with the Fiji Climate Change Division (CCD) visited Fijian communities in Daku, Viro and Soliyaga, that previously benefitted from coastal protection measures to gauge people's perspective on how effective the protection interventions have been on their coastline.
In addition to the field visits, an organized training of the impacts methodology was carried out with 15 subnational officers including the 10 Provincial Conservation Officers under the Ministry of iTaukei Affairs, tasked with profiling and oversight of project activities servicing  over 100village communities.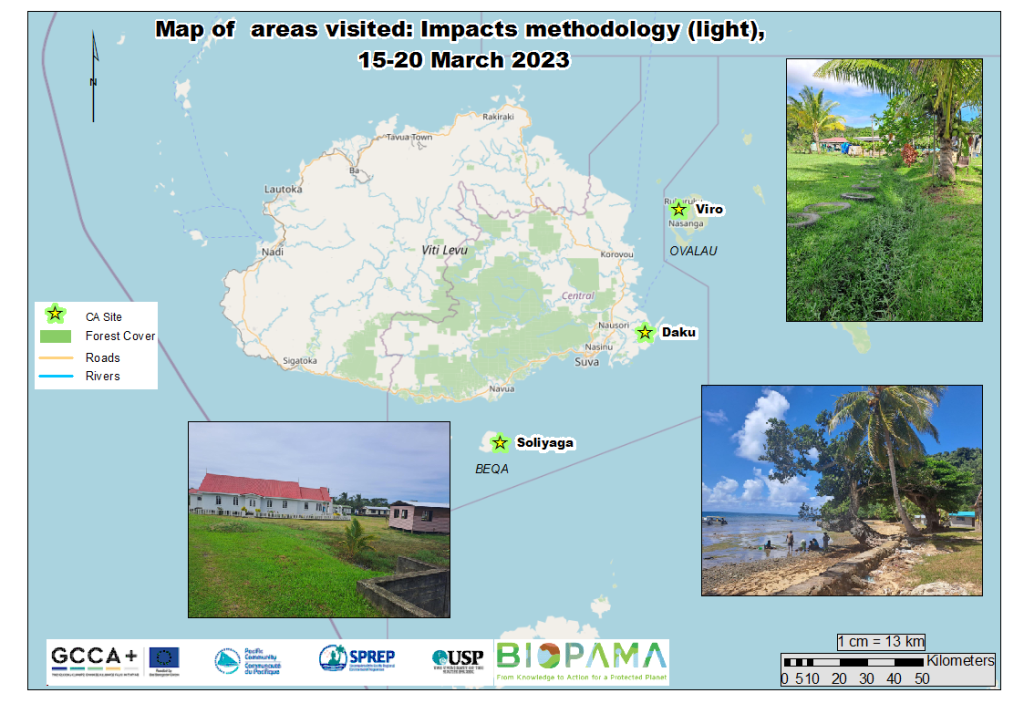 Mr Filimone Ralogaivau, Adaptation Officer for Fiji CCD, expressed his appreciation for the training.
"The training was not only about mainstreaming the impact tools and approach to our provincial officials that implement and monitor adaptation interventions but enables the CCD to assess the gaps existent on the ground," he said. "We are exposed to a lot of training including the Climate Vulnerability profiling rolled out. So, this is very important to try to understand how this impact methodology and its supplied tools and resources can make it easier for reporting on data information as part of our current work."
The EU funded GCCA+ Scaling Up Pacific Adaptation project is about scaling up climate change adaptation measures in specific sectors, supported by knowledge management and capacity building.  Ms Fiu said that since the regional training on the methodology and impacts database last November, there was further interest from Fiji to participate and are keen to expand application of tailored tools across a broad range of sector interventions, including examining the impact of relocation in pilot communities that first moved as a result of sea level rise and loss of land.
She said the mission was very fruitful. For example, the field visits to the three profiled areas, Daku, Viro and Soliyaga, gave the officers practiced confidence on how and which elements of the methodology can be added value to the monitoring and evaluation with reporting for the national adaptation planning process.
"In applying the checklist and focus group talanoa with an impact lens, a lesson be that examining residual effects of an intervention beyond a 5–6-year history timeline cannot account for the shifting baseline of a community's needs and aspirations and environmental changes observed," said Ms Fiu.
"For instance, in one of the sites visited to gauge the extent of impact of implemented coastal protection measures have been to the community at Soliyaga village, Beqa. Despite the profile interest on the built seawall, the villagers expressed that their most immediate concern was how to survive the next few weeks on remaining water in a few of its storage water tanks."
Twenty water tanks are shared amongst the twenty-three families within the village. Ms Fiu noted that from the focus group interviews and field observations about the seawall highlighted the interconnected nature of issues tackled by frontline communities when dealing with the onset impact of extreme dry periods, storms, cyclones changing their coasts and well-being.
In addition, results from community poll survey on climate science awareness, the level of preparedness and access to information conducted at Daku, Viro and Soliyaga indicated a high level of basic climate science understanding. These communities have access to television and radio thus the poll indicated that the people are being well informed.
"People's sense of preparedness varies with Daku situated in the delta with an average of 23% of the focus group feel they are at high risk; 89% of the Viro group felt they were not well informed and 60% feel that their place is medium to high risk to flooding, coastal erosion and cyclone depending on where their homes are situated either close to shoreline or the dug ditches throughout the village aimed to flush rainfall run off to sea.
"For Soliyaga, all members present during the focus group discussion felt that life is much worse than five years ago and they are at high risk to when experiencing extreme weather and climate events especially with their current water storage woes during the ongoing dry spell with very little rainfall."
With scaled up actions and a long history of direct projects assistance centered on building community resilience in managing unavoidable risks to climate change, the Pacific tailored impacts methodology is about examining residual impacts of 5-6 year old adaptation interventions. The impacts analysis methodology is making sense of impacts of interventions through use of tools to measure effectiveness, sustainability and social behavioural changes and people's wellbeing as a result of these climate actions.
The GCCA+ SUPA project is about scaling up climate change adaptation (CCA) measures in specific sectors supported by knowledge management and capacity building.
The four and a half year project (2019-2023) is funded with € 14.89 million from the European Union in the Pacific and implemented by the Pacific-Community-SPC in partnership with SPREP and The University of the South Pacific, in collaboration with the governments and peoples of Cook Islands, Federated States of Micronesia (FSM), Fiji, Kiribati, Marshall Islands, Nauru, Niue, Palau, Tonga and Tuvalu.
For more information, please contact: GCCA+ SUPA Project Manager, Ms. Monifa Fiu on [email protected] or GCCA+ SUPA Information and Research Officer, Ms. Gloria Roma on [email protected]