Environmental Monitoring and Governance
Main image credit: Cook Islands National Environment Service.
The Cook Islands stands to reap the benefits of a refresher training on the Pacific Environment Data Portal as well as the Cook Islands Environment Data Portal. 

The Pacific Environment Data Portal network exists to provide easy access and safe storage for environmental datasets to be used for monitoring, evaluating, and analysing environmental conditions and trends to support environmental planning, forecasting, and reporting requirements at all levels.

Held virtually on Tuesday 31 May 2022, the training is a continuing commitment by the Inform project to enhance national and regional capacity to consolidate, share and utilise information for environmental decision making and planning in the Pacific.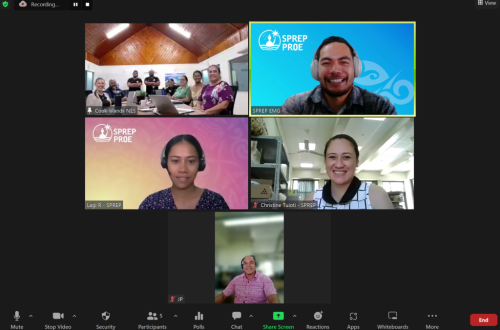 The Cook Islands National Environment Service Senior Biodiversity Officer, Ms Elizabeth Munro, applauded the training's objective. "The tools on the portal makes visualising the data easier and will very much help with reporting within countries," she said. 

This is essentially a key function of the Environmental Governance Programme as well as the national Environment Data Portals, ensuring Pacific islands have reliable access to their own national datasets. Thereby, aiding national reporting as well as international reporting obligations against Multilateral Environmental Agreements and contributing to Sustainable Development Goals. 

This initiative started in 2018 with the establishment of the Pacific Environment Portal network, creating a network of national Environment Portals and regional node. Since its launch, the initiative has seen an increase in the use of the portals and the available data in the region to support national decision-making. While Phase 1 of the initiative will come to an end in 2022, the portals and their functions will remain in place and supported to ensure long-term availability to Pacific users. 

Inform Project Manager, Mr Paul Anderson noted that "the project continues to engage with Pacific Island countries using data tools not only to build capacity but to ensure sustainability of the portal." Refresher trainings such as this are key to ensure country data providers and users continue to be well versed on the use of the portals. 

The training provided an overview of the building blocks of the portal, data types and tools available to countries.  Participants were familiarized on how to use their national portal to upload, share and manage data. An important component of the training included the different ways to view and extract information from the available data.
About the Inform project
The Inform project is funded by the Global Environmental Facility, implemented by the UN and executed by SPREP. Inform project countries are the Cook Islands, Federated States of Micronesia, Fiji, Kiribati, Republic of the Marshall Islands, Nauru, Niue, Palau, Papua New Guinea, Samoa, Solomon Islands, Tonga, Tuvalu, and Vanuatu. The Inform project is based with SPREP's Environmental Monitoring and Governance Programme.

For more information on the Inform Project, contact Mr. Paul Anderson, Inform Project Manager on email: [email protected]. 
To learn more about the Inform project, please visit http://www.sprep.org/inform/home