Waste Management and Pollution Control
The Japanese International Cooperation Agency (JICA) is home to several campaigns, according to Ms. Ayako Yoshida, JICA Regional Cooperation Project Coordinator. 
One of these campaigns includes working with local governments on developing waste management strategies and plans, supporting improvement of collection systems and managing landfill sites, and assisting to implement sustainable financial mechanism such as introducing the container deposit scheme (CDS). 
This is part of the work pursued by the Japanese Technical Cooperation Project for Promotion of Regional Initiative on Solid Waste Management in Pacific Island Countries Phase 2 (J-PRISM II) with Pacific Islands to reduce waste generated, and landfill space consumed, through the recycling of bottles and cans.  
J-PRISM II itself is a region-wide project for Pacific Islands that seeks to strengthen human and institutional capacity for sustainable Solid Waste Management (SWM).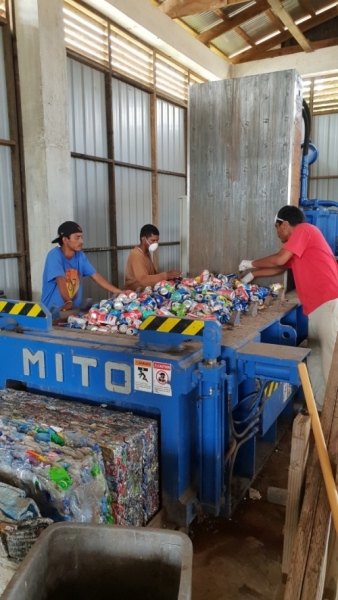 The CDS programme has been implemented in the Federated States of Micronesia, the Republic of Marshall Islands and the Republic of Palau in J-PRISM II's member countries. Kiribati engaged on the programme on its own. 
The CDS works with governments to implement programmes for collecting containers made from recyclable materials, such as moulded plastic bottles, glass bottles and aluminon cans. This means dealing with the containers will spare space in the landfill – because the containers are not going that direction – and means the materials are sold to foreign recycling market. 
"Depending on the country, the challenges will be different," said Ms. Yoshida. "However, a common issue for the smooth operation of the CDS is that the government has to always fulfil the financial system monitoring and accountability even after making many financial system designs and coordinating among the interests of the various related parties. The role of government is very important." 
According to a report on container recycling from Palau, the effective operation of a national recycling programme that is based upon a deposit fee for containers is a self-sustaining mechanism that may address concerns without a significant cost to the citizens. One of the goals, in addition to encouraging recycling, is to promote self-reliance among the people of Palau.
The CDS programme is adaptable. The Palau programme has expanded to include larger containers, to boost the success of the recycling work in that country.  
The programme is still a growing success. J-PRISM II is working with the pacific island countries to set up a financial mechanism like CDS programme, to help the country grapple with issues of waste management. 
For more information on J-PRISM II and CDS, please contact Ayako Yoshida at [email protected].