December 6, 2018 by
nanettew
Climate Change Resilience
4 December 2018, Katowice, Poland - A strong call to Leaders of the world to lead was made by Sir David Attenborough as he represented the 'Voice of the People' at the 24th Conference of the Parties to the UN Framework Convention on Climate Change, now underway in Katowice, Poland.  
Sir David Attenborough spoke to delegates during the High Level Plenary reminding all that the "continuation of our civilisations and the natural world upon which we depend, is in your hands."
Over the last two weeks the world's people have taken part in The People's Seat initiative allowing all to send video messages, voice their opinions and take part in polls which resulted in the collective thoughts, concerns, ideas and suggestions from people to world leaders.  Called "We the people's message", this was shared at COP24.
"'We the peoples of the United Nations'. These are the opening words of the UN Charter. A charter that puts people at the centre. A pledge to give every person in the world a voice on its future. A promise to help protect the weakest and the strongest from war, famine and other man-made disasters," presented Sir David Attenborough.
"Right now, we are facing a man-made disaster of global scale. Our greatest threat in thousands of years. Climate Change. If we don't take action the collapse of our civilisations and the extinction of much of the natural world is on the horizon. The United Nations provides a unique platform that can unite the whole world. And as the Paris agreement proved, together we can make real change happen."
The "We the Peoples" address also launched the UN Climate Action Facebook Messenger ActNow.bot calling upon people to show support to world leaders as they make the decisions to limit global warming in line with the Paris Agreement.  The link opens Facebook Messenger, connecting people to information about what they can do and the changes they can make to help address the climate change issues.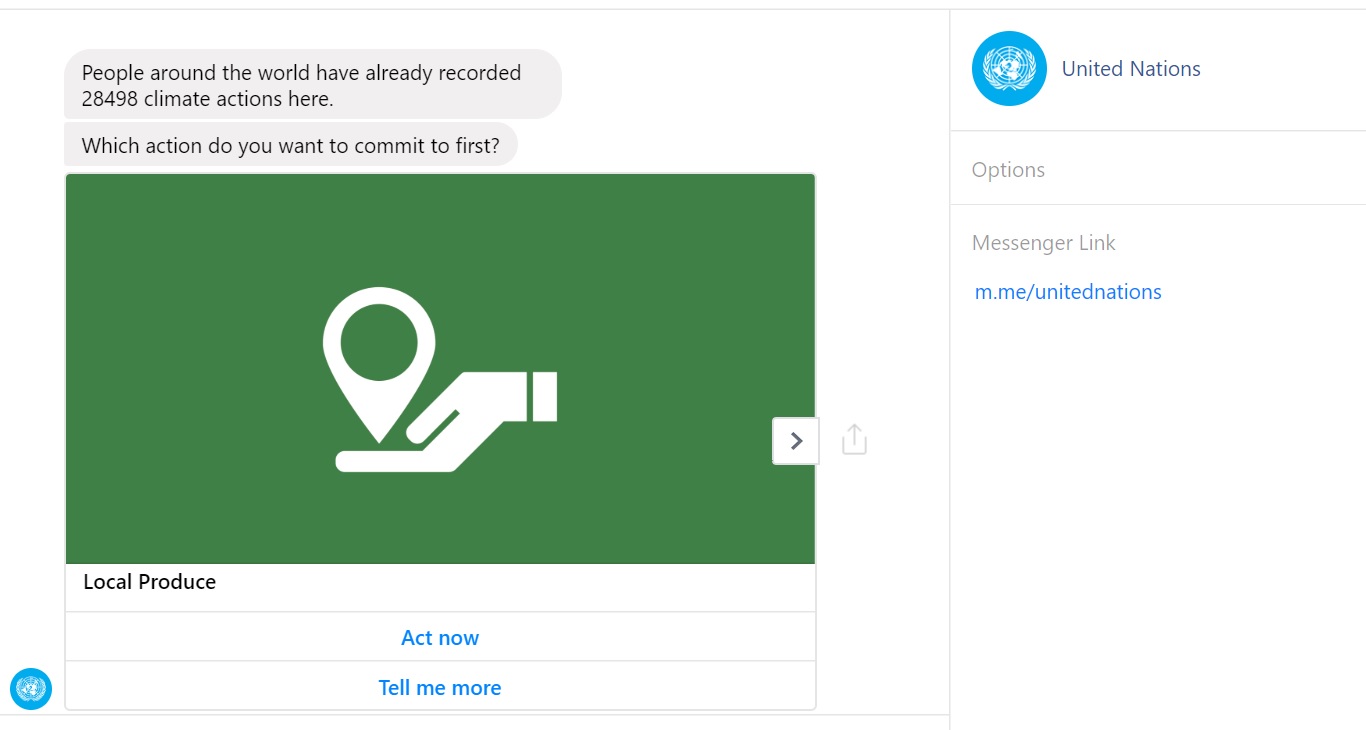 "These everyday actions are slight changes to things that many of us would normally do, such as eat meat, use plastic bags, or even buy imported produce.  These slight changes to our everyday lifestyles can make a huge positive impact," said Ms Tagaloa Cooper, Director of Climate Change Resilience of the Secretariat of the Pacific Regional Environment Programme (SPREP).
"This is a great initiative, it brings these tips to our fingertips through Facebook Messenger, linking your –personal actions with that of the global community.  All it takes is one click and you can begin to make a difference for a better planet.  This is something that we in the Pacific islands can show our support for, actions that we can rally towards doing."
Once you click on the ActNow.Bot it opens to Facebook Messenger.  The next step is to "get started" which then opens up the options of 10 different key actions that you can take in your daily life.  Once you have chosen what it is that you would like to do, each time to carry out that action you can log it on FB Messenger so that your progress is recorded with that of the global community.
All of these collective actions will then be presented to world leaders at the UN Climate Summit in September, 2019.
People are also welcome to continue sharing their thoughts and opinions on social media using the #TakeYourSeat hashtag so their posts are collated with others that use this same hashtag.
"We in the Pacific islands have identified climate change as the greatest threat to our survival, we can step up ourselves to make a difference in a show of support for our world leaders as they also make decisions that will impact our lives," said Ms Cooper.
"Try this today and know that we are not alone in our battle against climate change, we have a whole global community doing everything they can to make a difference for the better."
To learn more about the #TakeYourSeat and ActNow.Bot please visit: https://unfccc.int/sites/default/files/resource/UN_MediaFactsheet7.pdf
The UNFCCC COP24 is held in Katowice, Poland from 2 to 14 December 2018.