January 29, 2020 by
leannem
Island and Ocean Ecosystems
A technical learning exchange between Vanuatu and Fiji aimed at enhancing understanding on native tree propagation, nursery management and mangrove planting techniques concluded on Friday 1 November following a packed four-day schedule in Fiji. 

The exchange, supported by the Secretariat of the Pacific Regional Environment Programme (SPREP) Pacific Ecosystem-based Adaptation to Climate Change project (PEBACC), has proved mutually beneficial to both the visitors from Vanuatu's Department of Forests and the hosts, Fiji's Ministry of Forestry. 

"Our staff found the discussions stimulating and it was good to reflect on our own work and have to think about why we do certain things the way we do," said Mere Vukialau, Senior Scientific Officer at Fiji's Ministry of Forestry. "There's also an element of pride in being able to show off your work to others in your profession and I think it was a very valuable experience for our nursery staff."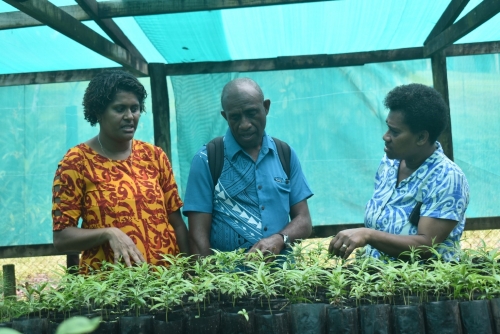 The first activity on the programme involved a visit to the Colo-i-Suva nursery in Suva. Forestry staff were on hand to showcase their seed collection, drying and propagation techniques, including potting mix ratios and good practice. The thriving nursery was greeted with much enthusiasm by the visitors from Vanuatu. 

"We really need to upscale our native tree propagation work in Port Vila so that we have enough plants to effectively rehabilitate the Tagabe River," said Bani Arudovo, Project Manager of the Vanuatu PEBACC project. "At the moment we do not have enough seedlings."

One of the challenges for rehabilitation and adaptation activities in our islands is having access to sufficient viable plant seedlings. Seedlings need to be kept strong and healthy before they can be transplanted at the new sites, which are often exposed to wind and sun. Some areas may also be prone to fires and drought, especially when trying to rehabilitate degraded areas. 

Discussions highlighted the importance of understanding the science in selecting and planting native trees to reduce mortality rates following replanting. The Fiji forestry team also discussed the need for community involvement and engagement for replanting to be effective.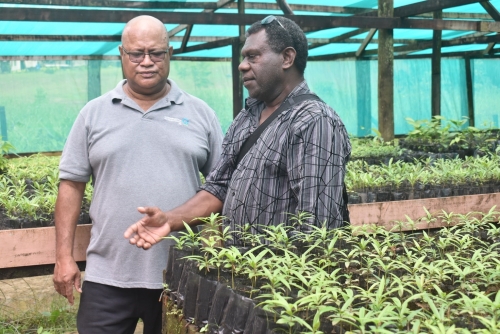 Similarly, for mangroves, some locations chosen for planting may not be suitable for mangroves while only particular species will grow in particular areas. 
 
During the Suva visit, participants were joined by Mr Marika Tuiwawa, the Curator of the Biodiversity Centre at the University of the South Pacific, who shared his knowledge on various native tree species and conducted a brief tour of Suva's replanted mangrove sites. 

Lessons from mangrove rehabilitation projects in Fiji were presented to the visitors from Vanuatu by staff of Conservation International and the Ministry of Forestry. These were well-received by the  team from Vanuatu. 

"We learnt some interesting ideas such as putting temporary fencing around the planted mangrove seedlings o keep them safe," says Presley Dovo, Senior Forest Officer from Vanuatu's Department of Forests. "In Vanuatu, the seedlings get a lot of rubbish like plastic bags smothering them. This simple system could be helpful for us."
Another aspect of interest for the visitors was the practice in some locations, of planting mangrove seeds directly into the rehabilitation area. 

"This approach may be quite useful and eliminate the need to build a nursery in some areas," says Mr Dovo. 
After Suva, the  team visited the Korotari nursery in Labasa and the Mua and Tutu nurseries on Taveuni.  They also participated in native tree planting in Nawailevu and Nasarawaqa villages in Bua as part of the Ministry of Forestry/FAO Action Against Desertification project and the Fiji Government's  4 Million Trees in 4 Years initiative which has now increased to target 30 Million Trees in 15 Years. The new tree planting target will see the Ministry of Forestry planting 2 million trees per year for the next 15 years.