Minister David Kabua, representing President Chris Loeak from the Republic of the Marshall Islands, has highlighted and acknowledged SPREP in his opening remarks at the 20th Micronesian Chief Executives Summit held in Yap State, Federated States of Micronesia.
The two-day summit (5-6 June) brings together leaders of the nine jurisdictions that make up Micronesia to discuss issues of common concerns for the region.
Minister Kabua acknowledged SPREP's effort in strengthening its work in Micronesia.
"We acknowledge SPREP's effort in reinforcing and strengthening capacity, working and networking in the north Pacific through the appointment of a locally based technical water expert", says Minister Kabua.
Recently, SPREP recruited Ms Moriana Philip to be based in Majuro to provide expert advice and technical support to Marshall Islands and Micronesia. A second Officer, to be based in the north Pacific will be recruited shortly.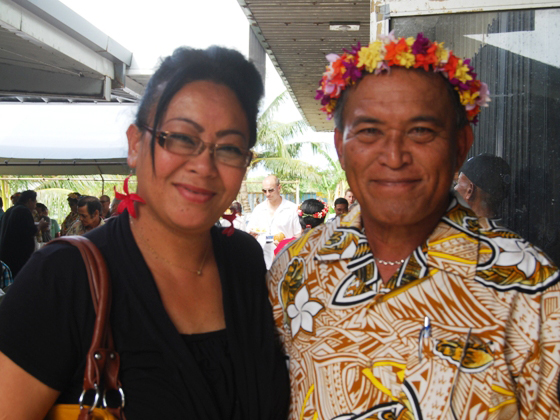 Minister David Kabua with Adviser Doreen DeBrum at the 20th Micronesian Chief Executives Summit.
Minister Kabua encouraged Micronesian countries to take advantage of SPREP's support. He also noted the effort that Marshall Islands is putting in place to protect sharks. Shark fishing or finning, including any form of transhipment, is prohibited in Marshall Islands.
Shark protection continues to strengthen in Micronesia, with the state of Chuuk recently passing legislation to protect sharks in its waters.