Island and Ocean Ecosystems
The Kingdom of Tonga's fight against the invasive African tulip tree, or  Spathodea campanulata will be strengthened with the introduction of gall mites or Colomerus spathodeae, a natural enemy of the African tulip. 

The gall mites, shipped over by Manaaki Whenua – Landcare Research (MWLR) are currently being inoculated in the Vaini Lab in Nuku'alofa. MWLR is a Pacific Regional Invasive Species Management and Support Service (PRISMSS) partner and the technical lead of the Natural Enemies, Natural Solutions PRISMSS programme. 

"The gall mites are a specialist natural enemy of the African tulip tree and form leaf galls known as erinea, which stunt growth and reduce the invasive plant's competitive ability," says Mr Nemo Talie, MWLR's Pacific Natural Enemies, Natural Solutions Coordinator.

According to a media release from MWLR, the mites were brought to New Zealand from Ghana in 2016, where they were mass-reared in the MWLR containment facility in Auckland. The ones that were shipped to Tonga have been extensively tested to ensure no other plants are at risk from them. 

The mites have been approved for release in Tonga, and the Kingdom's National Invasive Species Coordinator, Mr Viliami Hakaumoto, says, "The gall mites are being reared by the Ministry of Agriculture in Tongatapu, and will be released in all parts of Tonga where they are needed."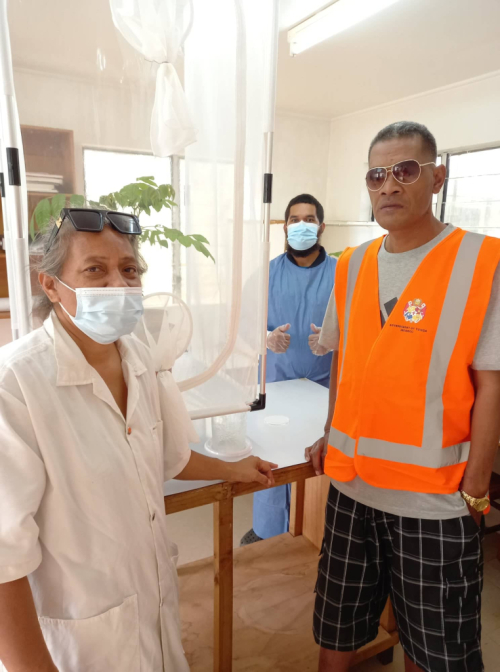 The African tulip or Spathoeda campanulata is an invasive alien species that is considered to be amongst the 100 worst invasive alien species in the world by the International Union for the Conservation of Nature (IUCN). Introduced to many Pacific islands as an ornamental plant, African tulip trees pose a huge threat to island biodiversity and ecosystem resilience across the region. 

The news of the gall mites follows a webinar on Weeds and Resilience, which was hosted on 27 May 2022 by SPREP's Invasive Species team during a Battler Lounge session. The session highlighted different instances of natural enemies being used to battle invasive weeds detrimental to Pacific biodiversity. The full webinar is available on Youtube. 

For more information on the PRISMSS Natural Enemies – Natural Solutions programme, please visit this link. The Battler Resource Base also has a Battler Guide on the use of natural enemies to manage widespread weeds in the Pacific, which can be found at this link.  

The work to control the African tulip tree is an activity supported through funding from the Global Environment Facility and New Zealand's Ministry of Foreign Affairs (MFAT) to better manage invasive species in the Pacific. MWLR and SPREP, are working together to support Pacific Island countries and territories (PICTs) to take stronger action against invasive plant species and build resilience to climate change. 

For more information, please contact Mr David Moverley, SPREP's Invasive Species Adviser, at [email protected].