Bran Quinquis is one of the nine deputy mayors of Mahina in Tahiti, French Polynesia. In his mid-30's and standing almost six foot tall, sun tanned, slim with white strands of hair against his long grey mane, one would mistake him for a European surfer in search of the biggest waves to conquer.


He had a vision.


In the cartoon world, it would be similar to those light bulb moments where the dream was there written in one of those speech bubbles and the light bulb with question marks in it is located right above a frowning face, blinking, thinking hard on how to make it become a reality.


That was 18 months ago.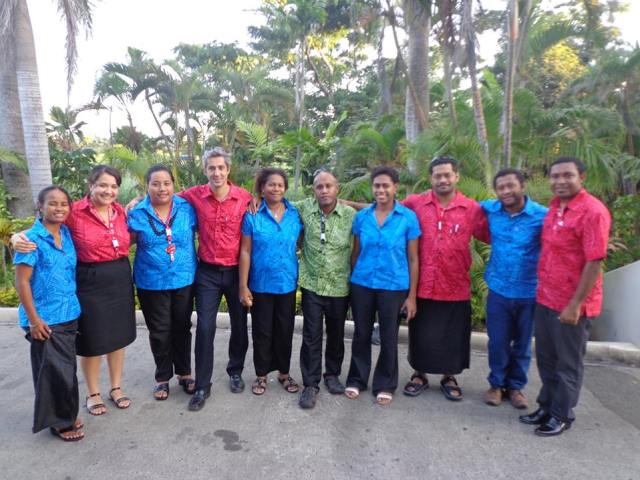 All that changed when Bran attended the inaugural PEEL, Pacific Emerging Environment Leaders, symposium in October of 2011. The symposium was a gathering of like-minded professionals, 20 of them altogether, from all over the Pacific region who had a passion for talking environment. They created a leadership network with the common goal of better managing our Pacific marine and terrestrial environment.


During the meet, they talked traits of becoming a leader and trained their mindset to talk solutions instead of being problem oriented. It worked and they became known as PEELers.


Now fast forward to June 27th 2013. Mr Quinquis has become the face of change in his community. He is setting up the first ever marine protected area in Mahina, Tahiti and perhaps the whole of French Polynesia.


"Without the network, I would not have had the confidence to bring to light the idea of protecting this vital marine ecosystem in my community," he explained.


The town of Mahina is located on the island of Tahiti, French Polynesia with a population of over 15 000. Captain Wallis first landed on June 17th 1767 and Captain James Cook stopped over in 1769 charting the Pacific. It was also where the Mutiny of the Bounty took place in April 1789.


Picture this! Swaying coconut palms, black sandy beaches stretching for about a kilometre blending into the calm blue seas that is just protected by a small reef filled with mysterious marine life forms...Captain Cook was hooked. He fell in love with the place. On Point Venus, he set up an observatory where he and his men watched the planet Venus travel across the sun. Such an event occurs once every 120 years and Captain Cook was eager to record the moment. It was also the friendly nature of the islanders and the beauty of the whole area that forever left a soft spot in the explorer's heart.


Fast forward again to present day and the reality is that most of the once pristine coral reef system is bleached and dying, the sea is polluted and there are not enough fish to go around.


But there is hope.


Located at Point Venus is the only healthy coral system thriving in marine life. Through Bran's persuasion and help from like-minded Tahitians, he was able to successfully have declared one square kilometre of the reef system a marine sanctuary.


"The idea is that with a sanctuary, once the fish population grows the fish would spill out of the protected area and fishermen would be able to fish just around the borders of the sanctuary. This is a sustainable option and eventually, in time, the coral system will fix itself," he said.


"As a deputy mayor, this is a legacy that I would like to leave behind. It is my baby and I am very proud of the achievement," he added.
He is not the only success story from PEEL. PEEL is made up of like-minded early professionals throughout the Pacific that comprise accountants, lawyers, journalists, government workers, nurses, youth workers, teachers and not necessarily environmentalists. What links all of them together is their drive to talk environment conservation. Each work in different sectors and they volunteer their time to doing environment work. They are passionate about it and are committed to ensuring that the next generation of Pacific Islanders will also enjoy the beauties of their island countries.


From 26-29 June at Fiji's Tanoa International Hotel in Nadi, 10 of the 20 PEELers gathered to present what they had done since the network's inception 18 months ago. Like Bran, it was evident from their presentations they had had a positive impact in their communities and workplace in improving environmental conservation and people's livelihoods.


Anne-Steshia Hubert from Nauru is another PEELer who is making inroads in her community. In many ways she has a big heart for a small person, who is articulate, brave and is confident when it comes to talking about something she is passionate about.


Ms Hubert, who works with diabetic patients in the country's health ministry is also actively involved in promoting environment conservation on the island whose vast natural habitat was destroyed by phosphate mining.


"The only piece of unspoilt natural environment we have is located near where I live and part of the program that I do in the community is to take the children for nature walks to appreciate what's left of our environment," she explained.


Adolphina Luvongit of Papua New Guinea (PNG) uses the classroom to teach children about the marine environment. Through her organisation, Mahoina Da Dari, which translates to 'Guardian of the Seas,' she is teaching teachers about marine conservation so that they teach their students a sustainable way forward.


She now dreams of going back to her village in West New Britain Province to work on waste management.
Mausa Halahala, from Tonga National Youth Congress, one of the oldest youth groups in the Pacific, is using the PEEL leadership training to his advantage. The skill he has gained has helped him become a leader and he is an advocate for organic farming in the Kingdom of Tonga.


At the meet in Fiji, they teamed up with another group of 12 young leaders from the AusAID-funded Future Climate Leaders' Project (FCLP) of the Pacific Centre for Sustainable Development (PACE-SD). The two groups explored ways to collaborate and build on their specific strengths through a series of sessions.


"The network is growing and this is an exciting time for PEEL. To be part of PEEL you have to apply. It is not just about getting anyone to join. What we would like to do is invite dedicated young Pacific Islanders to apply and they would go through a selection process where we can build this network professionally," said Ms Rachel Nunn who coordinates the PEEL network.


The way forward now for PEEL into the future is to build a network of professionals throughout the entire Pacific.