August 4, 2021 by
leannem
Climate Change Resilience
A training programme to enhance climate resilience capacity through Ecosystem-based Adaptation and Mitigation (EbA/EbM) in the Pacific region was delivered by the Pacific Climate Change Centre (PCCC) through its e-learning platform. The training was attended by 59 participants from 11 Pacific island countries. 
"Pacific islands are reliant on natural resources for maintaining economies, community livelihoods and socio-cultural values, and therefore EbA/EbM are particularly relevant to their communities and economies. Maintaining values using ecosystem-based approaches and active engagement of stakeholders are key to enhancing the effectiveness and sustainability of the outcomes of EbA/EbM projects and initiatives" said Ms. Ofa Ma'asi-Kaisamy, Manager of the PCCC.
During the self-learning modules, participants built their knowledge on climate risk, vulnerability of ecosystems, assessment methodologies, and scaled up ecosystem-based approaches through case studies including the Secretariat of the Pacific Regional Programme's (SPREP) Pacific Ecosystems-based Adaptation to Climate Change (PEBACC) project and Ecosystem and Socio-Economic Resilience Analysis and Mapping (ESRAM).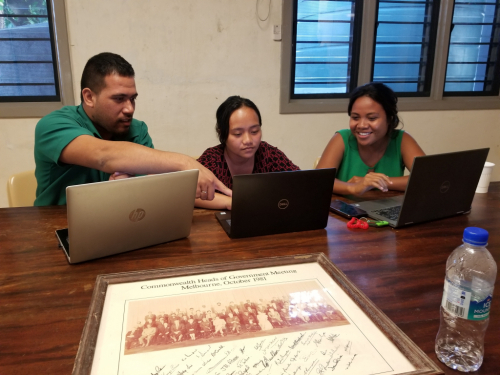 After self-learning, participants worked in groups to develop problem and objective trees and logical framework based on their learnings, which are key elements for formulating a climate change project.
"The training topics were very interesting, simple and comprehensive. I now understand the basic concepts and examples of EbA/EbM, and their importance to the ecosystems and ecosystems services" said Mr. Chris Teva, a participant from the Solomon Islands. 
"The exercise to develop problem and objective trees and logical framework helps me to understand and see different constructive ideas and perspectives from other participants as well as understanding the various complexity of EbA/EbM. I now have a clear understanding and confidence with EbA/EbM application on ecosystem and ecosystem services implementation that takes into consideration various cross-cutting issues."
This training program was organised by the "Project for Capacity Building on Climate Resilience in the Pacific - CBCRP" in partnership with the Government of Samoa, SPREP, and the Japan International Cooperation Agency (JICA). 
For further information on the training programs delivered through the Project for the Capacity Building on Climate Resilience in the Pacific at the Pacific Climate Change Centre, please contact [email protected]