Island and Ocean Ecosystems
Six months ago, the Pacific island region unified under a "One Pacific Voice" approach at an international biodiversity conference that brought together 18,000 people in Nagoya, Japan. This week in Nadi these same Pacific island countries and partners have come together once again to review the performance of the Pacific and pave the way forward following the outcomes of the 10th Conference of the Parties to the Convention on Biological Diversity (CBD COP 10).
"At Nagoya, under the Pacific Voyage banner, we made a huge impact. Our voices were heard because we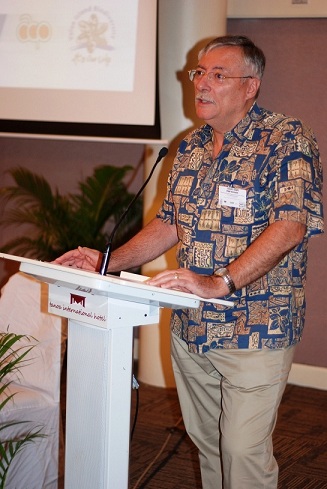 spoke with One Voice," said Stuart Chape the Island Ecosystems Programme Manager of the Secretariat of the Pacific Regional Environment Programme (SPREP), as he opened the one week gathering.
"We were well coordinated, and we took a firm stand on issues that were important to our region. I am pleased to say that many of our development partners highly commended the Pacific island countries' performance, strong convictions and perseverance in Nagoya. This success underscores the importance of working together as One Pacific speaking with One Voice - an approach that we should replicate at future Conferences of the Parties."
The agenda for the week will see discussions cover the Nagoya Protocol on Access and Benefit Sharing, the Strategic Plan of the Convention on Biological Diversity also known as the "Aichi Target", funding opportunities, Protected Areas, Island Biodiversity and National Biodiversity Strategy Action Plans.
This meeting is just one of a series of meetings to come for the region under the different outcomes of the CBD COP 10, to help the Pacific progress implementation to meet both national and the global biodiversity targets. The next five days will provide time for the Pacific region to re-group, review their achievements at the international biodiversity meeting in Nagoya and work towards using the lessons learnt to progress implementation.
"It is not our intention to provide you with all the answers this week. However, it is our hope that this meeting will provide a platform for sharing information, ideas and experiences. Although the agenda may seem ambitious I am confident that with your cooperation and active participation in the next five days, we can achieve a successful outcome - one that will provide us with an effective road map that will help Pacific countries progress towards meeting global, regional and national biodiversity targets."
Notes:
The meeting is held from 16 – 20 May at the Tanoa Hotel in Nadi, Fiji.
Participants are from the Cook Islands, Timor Leste, Federated States of Micronesia, Fiji, Kiribati, Marshall Islands, Nauru, Niue, Palau, Samoa, Solomon Islands, Tonga, Tuvalu, Vanuatu, Foundation of the Peoples of the South Pacific International (FSPI), IUCN - International Union for Conservation of Nature, United Nations Environment Programme (UNEP), WWF South Pacific Programme, University of the South Pacific.
Related link: Bionesian blog