Waste Management and Pollution Control
Column by Kosi Latu, Director General of SPREP as the Sixth International Marine Debris Conference, 12 – 16 March 2018 in San Diego, ends.
Your choices and your actions have an impact on our planet and in the theme of this column, what you do on land, at home, has an effect on our ocean.
Every time you use single-use plastic and dispose of it in the bin, you may want to have a think as to where it is going. Where does our waste go? Where is 'away' when you throw it 'away'?
What happens to all the plastic that we use, only once, in our daily lives? Plastics such as that which wraps our food, the straws we use, the plastic cutlery and the Styrofoam plates. Where does it all go?
Now for the facts in this jigsaw puzzle which should piece the picture together by the end of this column.
The large-scale production and use of plastic dates back to around 1950 when it was estimated that 2M Metric Tons of plastic was produced. In 2015 the planet produced 32M Metric Tons of plastic was produced.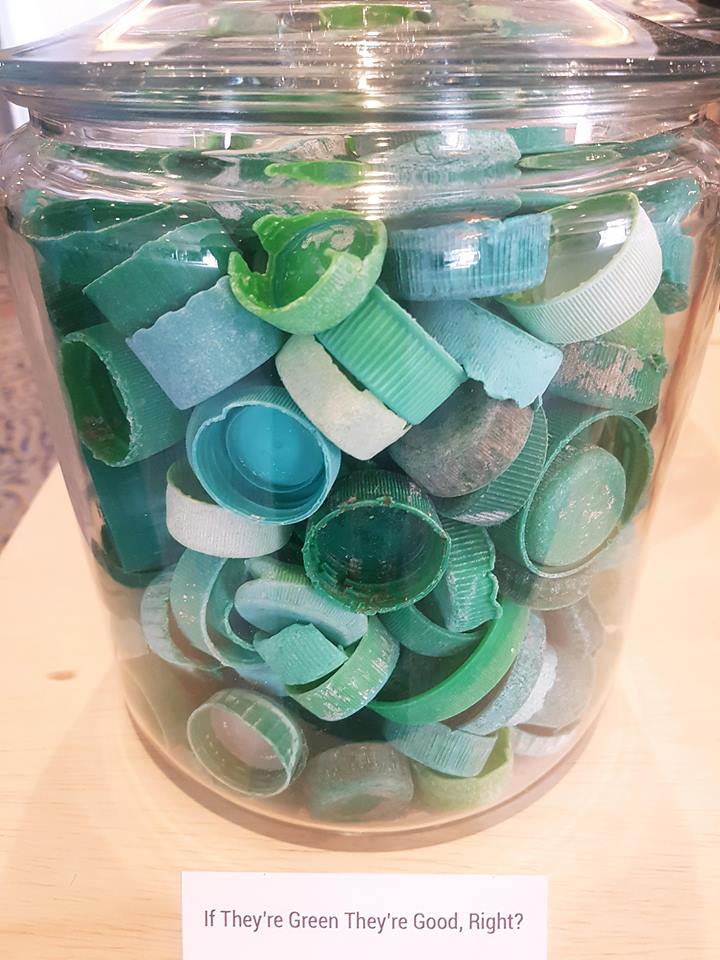 Art installation by Mark Cunningham, plastic trash collected from beaches in Hawaii


In other words a lot, of this super material made of chains of polymers, which is very hard to destroy.
Of the world's plastics nine percent is recycled, 12 percent is incinerated and 79 percent accumulates in landfills. Yet what we do on land has great impact on our ocean.
There are at least 51 trillion pieces of micro plastic particles in our ocean and each year eight million tonnes of plastic makes its way into our ocean.
80 percent of the marine debris in the ocean comes from the land and it does so in many ways. One may be through the weather elements that blows waste into drains or rivers and eventually ends up in our ocean. There is also the dumping of waste directly into our ocean, but there are even polymers in our clothing and beauty products which drain directly into our waterways when we wash our clothes, or bathe.
And it is a problem for us in our Pacific region.
Studies are now showing that fish consumed by humans are ingesting the tiny ocean plastics or are being transferred the toxins in these microplastics.
Seventy-five percent of the world's tuna landings come from the Pacific waters and 47 percent of Pacific households list fishing as either a primary or secondary source of income. National fish consumption in our island region is three to four times the global average.
Our ocean is our Pacific region's largest resource. It is how many Pacific islanders identify ourselves, we are large Ocean Island States, our Pacific island ancestors navigated the ocean to seek new lands, we have cultural ties to the species that dwell in our ocean with much of our Pacific way of life having roots in our ocean.
As the late Pacific writer, Epeli Hau'ofa said – "We are the Ocean."
It was a win for us all in 2017 when our Pacific island leaders at the 48th Pacific Island Forum Leaders Meeting hosted in Samoa committed
"to fast track the development of policies to ban the use of single-use plastic bags, plastic and Styrofoam packaging and called on Pacific Rim partners to join and commit to action on addressing marine pollution and marine debris, to maintain the environmental integrity of the Pacific Ocean for people, planet and posterity."
And leadership is shown at the highest level across our region.
Legislation in Vanuatu came into effect this year, which bans the use, manufacture and importation of single use plastic bags as well as polystyrene food containers and straws. The legislation came into effect on 1 February but provides a six month grace period to allow businesses to use all existing stock.
Fiji has imposed 10c levy on plastic bags in 2017, in an effort to discourage shoppers from using plastic bags, and encourage them to opt for reusable bags instead.
The Republic of the Marshall Islands legislation which bans the importation, manufacture and use of single use shopping plastic bags, Styrofoam cups and packaging, celebrates its first birthday in March having come into effect in March 2017.
The Commonwealth of the Northern Marianas Islands (CNMI) unanimously passed a bill in the House of Representatives which fines shops that offer plastic bags and President Tommy Remengesau Jr of Palau last year signed a law which bans single-use plastic bags in the country.
Now we all need to draw upon our person Pacific island
Mana
and take action ourselves in our communities, our homes and with ourselves.             
Art by school students on display during the 6IMDC in San Diego
Let's rethink the need for a straw when we buy drinks, that single straw is thought to take 500 years to decompose, do we really need to use it? Instead of using plastic bags when out shopping, bring your own bag.
Encourage others to learn about marine debris and ocean pollution. Sign up and take part in campaigns such as the International Coastal Clean Up campaign and the World Let's Do It campaign which helps clean a beach and record the plastic waste collected so there is a global data provided.
All and any small step you take can make a big difference for our environment and our ocean. Do what you can. You don't need an event to start. Just do it!
At the Secretariat of the Pacific Regional Environment Programme (SPREP), we aim to walk the talk. In 2017 we took part in the Plastic Free July campaign which saw us as an organisation committee to reduction of plastic, our workshops held at SPREP no longer use Styrofoam or plastics for catering and we distribute reusable bags for people to use.
It isn't easy, and we at SPREP still have a lot to do, but we all need to try together. Before we even start to purchase or use plastic, think about where 'away' is and the impact that our purchases will have on our ocean.
Remember, "We are our Ocean". Let's care for it as we would ourselves.