February 27, 2018 by
admin
A single portal, which can house all environmental information in Solomon Islands for better planning and reporting, was established as part of the Inform project with the Secretariat of the Pacific Regional Environment Programme (SPREP).
The Ministry of Environment, Climate Change, Disaster Management and Meteorology (MECDM), along with other ministries and stakeholders, is working to effectively assess and improve environmental conditions in Solomon Islands. The information gathered on these conditions can be uploaded to the portal for use in State of Environment (SoE) Reports and National Environmental Management Strategies (NEMS), as well as to report on Multilateral Environmental Agreements, Sustainable Development Goals, and other national and international requirements that are managed under the UN Environment ACP MEA 2 project.
Through the ACP MEA project, SPREP has laid the ground work in gathering data through the SoE Reporting process for the past eight years. Consequently, the SoE process has set a good foundation for establishing a portal to house environmental data through the Inform project. The work on the portal is done in collaboration with Solomon Islands Government (SIG) counterparts to determine what existing databases can complement the portal. Having high-quality and current data consolidated will help the SIG monitor any environmental changes over time.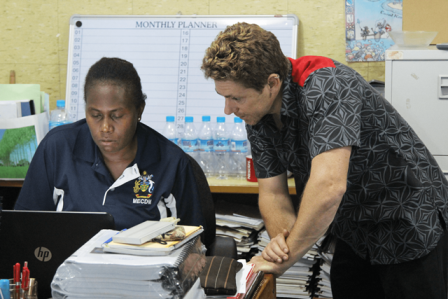 Ms Debra Kereseka Potakana of MECDM receives training on the Inform project data portal in Solomon Islands from Mr Paul Anderson of SPREP. Photo: W.Isenhower/SPREP
With technical and financial support from SPREP, MECDM also held an SoE Reporting and environmental information workshop on February 12 to spearhead environmental forecasting and reporting with key country partners.
The Global Environment Facility funds the Inform project, and the European Union-funded ACP MEA 2 Project supports the development of SoE Reports and NEMS. The projects—implemented through UN Environment and executed by SPREP—complement each other by taking integrated approaches to key activities, such as improving data management systems, in Solomon Islands.
Ms Debra Kereseka Potakana, Chief Environment Officer in MECDM's Environment and Conservation Division, said the portal will help in coordinating data sharing with other agencies.
"We've been asking for something like the portal where all information can be stored, and this project has addressed it," Ms Kereseka Potakana said, adding, "The portal will make us more visible to the public."
To launch the in-country portal, Mr Paul Anderson, the Inform Project Manager for SPREP, and Mr Tony Miller, the Inform Project Systems Analyst, supported MECDM in hosting the workshop.
Both Mr Anderson and Mr Miller then conducted follow-up meetings onsite with MECDM, the Information and Communications Technology Support Unit, the Statistics Office, and other relevant government ministries. These meetings involved discussing the Inform project's objectives, assessing current data hosting capabilities and potential needs, and explaining the portal and giving users a chance to test it.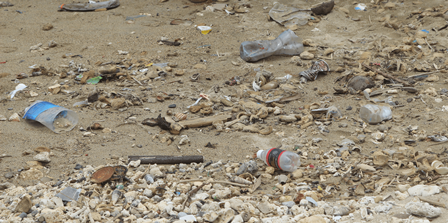 Litter on the coast in Honiara, Solomon Islands. The Inform project's portal will provide a place to house data on marine litter and other issues so decision-makers can easily access the data for environmental planning and policymaking.
Photo: W.Isenhower/SPREP
During the week, meetings were also held with key environmental ministries to gather available data for the country's 2018 SoE Report.
Mr Anderson of SPREP said visiting Solomon Islands to meet with potential users of the portal is crucial to tailoring a local solution for data accessibility and sharing: "We want to ensure the portal is useful for Solomon Islands and each country that is part of the Inform project."
The four-year Inform project is also establishing national portals in the Cook Islands, Federated States of Micronesia, Fiji, Kiribati, Republic of the Marshall Islands, Nauru, Niue, Palau, Papua New Guinea, Samoa, Tonga, Tuvalu, and Vanuatu. A regional portal will be created for the 14 project partner countries to access and share environmental data and support the SoE reporting process for planning and decision making.

To learn more about the Inform project, please visit
http://www.sprep.org/inform/home


To learn more about the ACP MEA project, please visit:
http://www.sprep.org/Projects/acp-meas-project