On Wednesday March 18, students from Years 7 and 8 at Vaiala Beach School took advantage of their proximity to the Apia headquarters of the Secretariat of the Pacific Regional Environment Programme (SPREP) by attending a pre-arranged visit to the campus.
Class teacher, Ms Annie Meredith, explained that the visit was designed to complement the students Social Studies topic for Term 1:
"This term my students are studying how different organisations influence people and the impact they have on nations. SPREP is one of the three organisations that we have chosen to explore in detail. I think it's important for young people to be aware of the good work that is being done to help the Pacific."
Pictured above: Students from Vaiala Beach School at the SPREP campus in Vailima.
The 28 students visited SPREP's library and listened to presentations from SPREP staff members Paul Anderson, Scott Willson and Posa Skelton about the ways in which SPREP works to affect change at community, national, regional and international levels. Specific examples were given in the areas of invasive species, marine pollution, coastal erosion management and turtle conservation. Following the presentations, the students were given a tour of the Secretariat's leafy Vailima campus.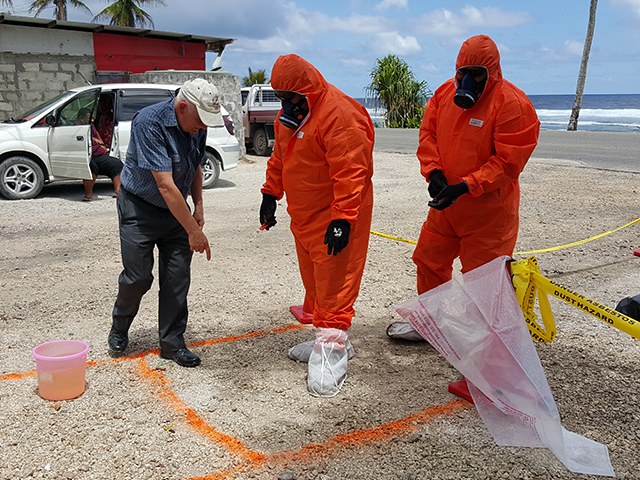 Pictured above: All heads turned when SPREP staff member Paul Anderson commenced his presentation.
Students took home some valuable messages on environmental conservation as a result of the excursion. Year 8 student, Andrea Schuster, explains:
"Yesterday I couldn't stop thinking about the trip. It really inspired me to be aware of what to throw away and what not to throw away. After school that day I went to swim training at Mulinu'u and it was then when I realised all the litter in the sea. So I grabbed as much as I could and found that there was no bin, so I found a plastic bag that was tucked under the rocks and put all the trash in it and took it home. It felt great because I had influenced a little girl to do the same."
Year 7 student, Analei Craig Pelesasa, added:
"I didn't actually realise how important SPREP and the environment was until now. I am inspired by how one person can impact lots of people for the better. I loved learning about marine litter and pollution and how it kills animals and how we can help as one person in the world for a better future."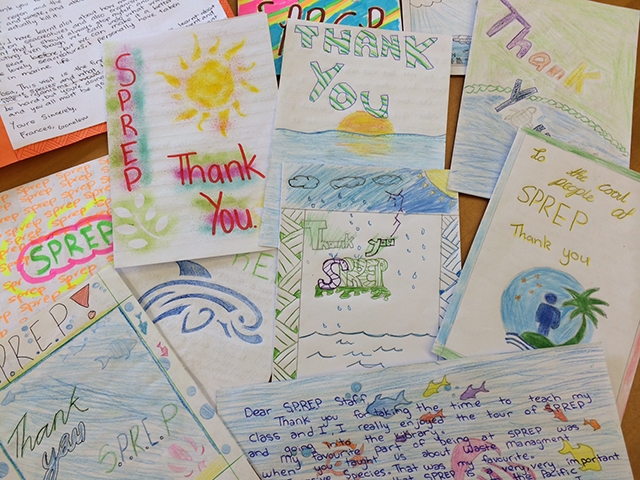 Pictured above: An array of colourful thank you cards prepared by the students were presented to SPREP staff.
Ms Miraneta Williams-Hazelman, Manager of SPREP's Information Resources Centre and Archives, explains the importance of environmental education:
"One of our goals at SPREP is to educate young people across the region on environmental and conservation issues. We place a high priority on education and outreach as our young people are the ones that will grow up to become change-makers - and eventually, young ambassadors for the Pacific environment."
Schools interested in visiting SPREP can contact
Amber Carvan
 by email or call 21929 to arrange a suitable date and time.