November 19, 2019 by
leannem
Island and Ocean Ecosystems
Nuku'alofa, Tonga – Representatives from key Ministries and non-government organisations met in Nuku'alofa this week to plan activities to support Government and coastal communities achieve their protected marine species conservation priorities. Participants agreed the activities should focus on reducing the catch of endangered marine species such as turtles and sharks in offshore and inshore fisheries and strengthening the capacity of government staff to help ensure that the Kingdom of Tonga meet their obligations under the Convention on the International Trade of Endangered Species (CITES). 

The collaborative workshop was initiated by the Ministry of Fisheries, Ministry of Meteorology, Energy, Information, Disaster Management, Environment, Climate Change and Communications, and the Secretariat of the Pacific Regional Environment Programme (SPREP) as part of the five-year Pacific-European Union Marine Partnership (PEUMP) Programme.

Funded by the European Union (EU) and the Government of Sweden, the EUR 45 million PEUMP Programme promotes sustainable management and sound ocean governance for food security and economic growth, while addressing climate change resilience and conservation of marine biodiversity. It follows a comprehensive approach, integrating issues related oceanic fisheries, coastal fisheries, community development, marine conservation and capacity building under one single regional action.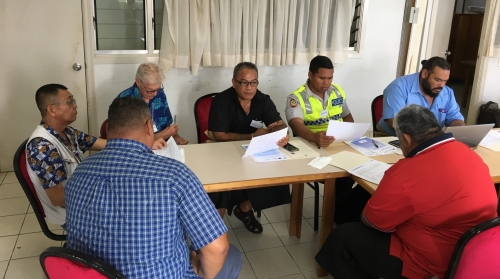 SPREP is leading Key Result Area 5 of the PEUMP Programme to support the governments of Fiji, Papua New Guinea, Solomon Islands, Tonga and Vanuatu in the sustainable management of coastal and marine biodiversity.

The workshop was officially opened by Dr. Tu'ikolongahau Halafihi, Chief Executive Officer at the Ministry of Fisheries, who stressed the importance of the task that lay ahead of them in protecting our ocean, "At the national level we are strengthening our legal framework and policies, but also on surveillance, compliance and enforcement where much needed efforts are still to be done. We have actively considered how the PEUMP Programme can help us in achieving our priorities and look forward to working with SPREP in the coming years to deliver them" he said. 

The Head of Cooperation of the Delegation of the European Union for the Pacific, Mr Christoph Wagner, recognized the importance of country's leadership to design tailor-made activities and maximise the positive impact of the PEUMP programme. He said: "Bycatch and Integrated Ecosystem Management (BIEM) is pivotal for the sustainability of Tonga's marine resources. The EU is pleased to acknowledge the participatory approach and the engagement of different stakeholders to set out key national priorities on fisheries management and marine endangered and protected species. These priorities will be central for the planning and the development of BIEM activities supported through our Marine Partnership Programme. 
At the close of the meeting, Paula Ma'u, Chief Executive Officer Ministry of Meteorology, Energy, Information, Disaster Management, Environment, Climate Change and Communications (MEIDECC), said, "We are committed to addressing our international obligations under CITES and other international conventions for protected marine species.  We have identified activities to be funded by PEUMP that will build our capacity to deliver them."

SPREP's programme coordinator, Jamie Davies, said: "We greatly appreciate the time dedicated by the experts and interest groups at this meeting to identify and prioritise activities that will deliver positive change for coastal communities and marine biodiversity. There is a lot to do before the Programme ends in December 2022 so I'm looking forward to supporting the Kingdom of Tonga Government to get these activities underway".

SPREP's work under the PEUMP Programme consists of eight integrated areas consisting of marine spatial planning; integrated 'ridge to reef' ecosystem strategies and coastal zone management planning; development and integration of climate change adaptation strategies into coastal community plans; assessment of bycatch of endangered species and extinction risk; development and implementation of bycatch mitigation strategies; capacity development through research grants to citizens of Pacific island countries; support for community monitoring and protection of endangered species; and capacity development of Non-Detrimental Findings process for CITES partners.  Human rights and gender equality will be core considerations in the development and implementation of each of these components.

The BIEM Inception meeting was held 13 November 2019 at the Ministry of Fisheries, Nuku'alofa, Kingdom of Tonga. For more information please contact Jamie Davies, KRA 5 Coordinator, PEUMP Programme, at [email protected].