Island and Ocean Ecosystems
Taveuni, Fiji – Taveuni, Fiji's third largest island, has over the years experienced deteriorating soil quality, degraded water catchments and low agricultural yields. These were due to the removal of large tracts of forest to expand areas of cultivation for the growing cash-crop industry. The impacts of climate change can further exacerbate the effects of human-caused impacts on ecosystems and natural resources.
For this reason, the people of Taveuni undertook a whole-of-island approach to improve agricultural soil and water catchment health through native tree reforestation and agroforestry as an initiative under the Pacific Ecosystem-based Adaptation to Climate Change (PEBACC) Project implemented by the Secretariat of the Pacific Regional Environment Programme (SPREP) and initially funded by the International Climate Initiative from 2015 to 2020. The project has now moved to a second phase funded by the Kiwa Initiative called the PEBACC+ Project. This second phase will be scaling up these Ecosystem-based Adaptation (EbA) interventions through Kiwa Initiative funding until 2026.
Kiwa PEBACC+ Project Manager at SPREP, Loraini Sivo said, "As part of the Kiwa Initiative regional component, PEBACC+ will strengthen existing activities, diversify them, and integrate Ecosystem-based Adaptation into public policies to ensure its sustainability.
Taveuni remains an important site for scaling up EbA interventions to minimize the increase in agricultural expansion into the intact natural forest on the island. The forest area is not only important for harbouring diverse biodiversity, including species only found on Taveuni, but it is also an important ecosystem for providing water to the whole island if they remain intact."
She added "During our recent scoping mission to the island, village leaders expressed their concerns about the increasing unsustainable farming activities into key catchment areas, further affecting water sources and causing land degradation. Through the Kiwa PEBACC+ project there is the intention that farming practices will be sustainably managed and degraded areas will be further reforested."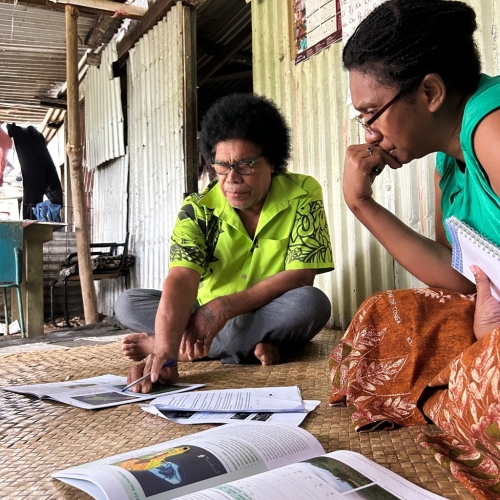 The Ecosystem and Socio-economic Resilience Analysis and Mapping (ESRAM) study conducted during the first phase reported that the loss of forest cover on Taveuni will continue to affect the island's water cycle, altering the influx of cloud-based moisture from cloud forests and epiphytes, and lowering potential for groundwater infiltration due to opening of the forest cover.
"Healthy ecosystems including intact forests, wetlands, and coastal areas, are crucial in providing services to local communities such as clean water, medicines, shelter, and food. They also form physical buffers against extreme weather events such as cyclones and storm surges," said Ms. Sivo.
Taveuni District Water Catchment Coordinators, recruited through the first phase of the PEBACC project, organized and facilitated Water Catchment Committee meetings to develop and implement agroforestry and reforestation plans to improve the health of water catchment areas in the various districts.
Water Catchment Coordinator for Vuna District, Ms. Monika Maria said, "Vuna was lacking in water supply and facing the challenges of infertile soil. The misuse of weed killers, cutting down of trees, and the lack of people's awareness of the impact of deforestation were challenges we had to work through." 
She added, "The replanting of native trees is important in improving the health of our water catchments as well as preventing soil erosion. We look forward to the work of Kiwa PEBACC+, especially now that people have learned and are aware, from the first phase, of the importance of tree planting and stopping deforestation to maintain good water catchment. And these trees will serve our future generations."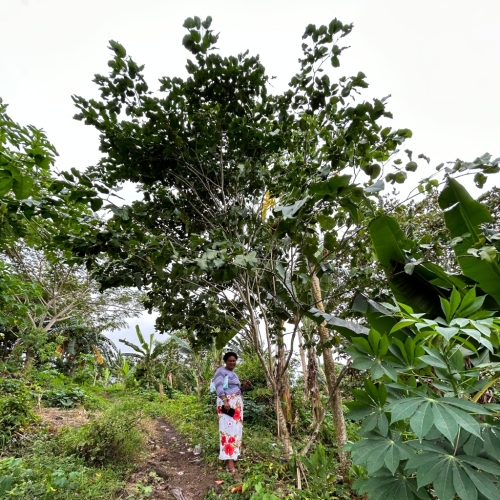 Ecosystem-based Adaptation is a Nature-based approach to adaptation planning that seeks to harness the potential of, and protect, healthy ecosystems and biodiversity to reduce vulnerability and build social and economic resilience to climate change.
Ms. Sivo said, "The implementation of Kiwa PEBACC+ project specific to Taveuni will scale up reforestation and the agroforestry programme as well as train decision-makers on EbA and Nature-based Solution approaches, green infrastructure, and environmental protection. The project continues to receive support from local and traditional leaders; this is important to provide a solid foundation in carrying on the work while also ensuring that there will be sustainability after the project period. 
We look forward to maintaining a strong relationship and ensuring effective implementation as we plan our inception meeting with communities, local leaders, and key partners in government and non-government organizations on 27-29 September 2023. Savusavu is the second project site for Fiji with its national level inception scheduled on 4 October 2023."
Kiwa PEBACC+ is a €5.8 million regional project implemented by SPREP and funded by the Kiwa Initiative – through its donors the European Union, Agence Française de Développement (AFD), Global Affairs Canada, Australian Government Department of Foreign Affairs and Trade (DFAT) and New Zealand Ministry of Foreign Affairs and Trade (MFAT) – with co-financing from the French Facility for Global Environment (FFEM). This four-year project seeks to strengthen the resilience of ecosystems, economies and communities to the impacts of climate change in Fiji, Vanuatu, Solomon Islands, New Caledonia, Wallis and Futuna. The project will develop, sustain, and institutionalize the Ecosystem-based Approach to climate change adaptation in these five countries and territories. 
For more information, please contact Ms Setaita Tavanabola, Communications Officer, PEBACC+ Project, SPREP (Sub-Office in Fiji) on email [email protected]. 
MAIN IMAGE: Taveuni Island © Stuart Chape