September 1, 2014 by
admin
Best practice waste management was highlighted at a side event on the first day at the Third United Nations Conference for Small Island Developing States (SIDS) as one of the most pressing, and immediate, environmental and social issues facing the region.
Pictured above: Speakers at the side event.
Dr David Haynes, Director of Waste Management and Pollution Control at the Secretariat of the Pacific Regional Environment Programme (SPREP), joined representatives from the United Nations Environment Progrmme (UNEP), Caribbean Community and the South Pacific Tourism Organisation on a high level panel to discuss the scaling up of best practices and sustainable consumption and production policies in SIDS. Dr Haynes explained:
"Integrated waste management is a major issue in the Pacific region, particularly on low-lying atolls. Interestingly though, typical waste streams in the region consist of around 50% organic waste, with recyclable items making up around 20-30% of the rubbish. By promoting sound waste management practices - such as encouraging communities to compost organic waste or feed it to pigs - we can essentially halve the volume of waste that needs to be disposed of."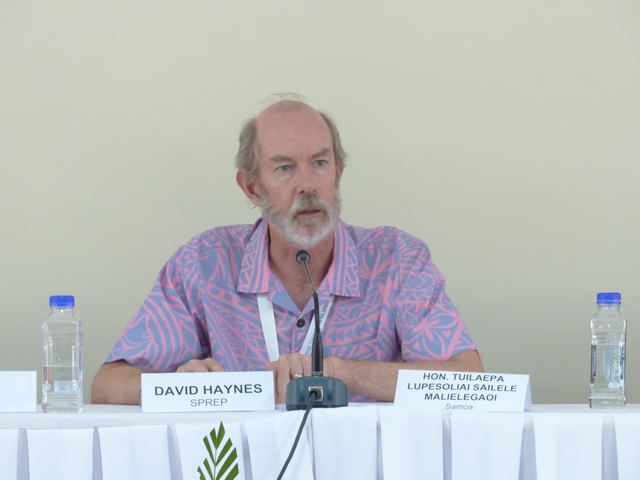 Pictured above: Dr David Haynes at the side event.
In his presentation, Dr Haynes discussed the characteristics of successful recycling initiatives in the region and noted the importance of properly separating recyclable materials, ensuring government support through appropriate policy and regulations to ensure financial incentives for collection.
"This typically requires that a small levy or tax is attached to all selected goods. Part of this levy is refunded when the product is returned for recycling, and the remainder is passed onto the recycling agent to help cover costs, particularly for low value recyclable products such as plastic."
SPREP in partnership with JPRISM-JICA has had success in delivering such initiatives in a variety of different member countries. These include preparing model regulatory and policy frameworks for recycling E-waste and used oil in Fiji, Samoa and the Cook Islands for governments to implement, as well as provision of training in composting techniques.
Echoing the words of Mr Wu Hongbo, Secretary-General for the Third International Conference on SIDS, panelists at the side event agreed that the success of world sustainability hinges on our capacity to support SIDS to enact and 'scale up' best practices in sustainable production and consumption.