Island and Ocean Ecosystems
An environment that thrives with healthy natural ecosystems benefits from fresh supplies of natural resources for enhanced and sustainable living for present and future generations.
This was a key message of a 2-day mapping workshop organised by the Secretariat of the Pacific Regional Environment Programme (SPREP) with community and national representatives from organisations in Honiara and the outskirts of the city on natural ecosystems and their benefits to everyday living.
The workshop organised in Honiara from 9-10 August is part of an Ecosystem Resilience, Analysis and Mapping (ESRAM) study for Solomon Islands commissioned by SPREP through its Pacific Ecosystem-based Adaptation Project (PEBACC), and led by BMT WBM in collaboration with the University of Queensland and other partners.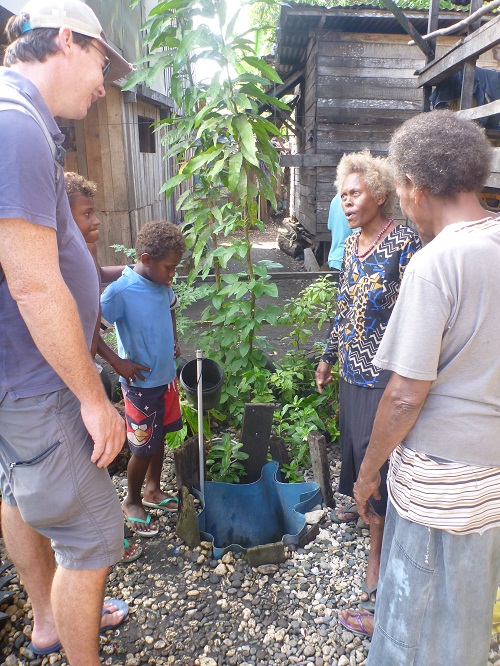 Mary Noela Bibi shows Dr. Simon Albert a domestic (non-drinking) water source in her community adjacent to Mataniko River, Honiara. Photo: PEBACC Project
An ESRAM study is a mapping and analysis of social economic resilience to climate change associated with goods and services provided by ecosystems.
SPREP's PEBACC Country Manager for Solomon Islands, Mr. Fred Patison explained that the PEBACC project focusses on strengthening and protecting the role of natural ecosystem services to enhance resilience.
"Well-managed and functioning ecosystems and the services that they provide are essential for maintaining and building national and community resilience to climate change," Mr Patison said.
"The ESRAM study will help PEBACC gain a deeper understanding of the resilience and vulnerability in Solomon Islands as well as look at the inter-connectedness between social and ecological systems and how these are being impacted by climate and non-climate drivers." Mr. Patison added.
Throughout the 2-day workshop facilitated by Dr Beth Toki of BMT WBM Australia and Dr Simon Albert of the University of Queensland, participants identified the threats facing ecosystems in Honiara and Solomon Islands, linkages and dependencies on ecosystems and the critical services they provide.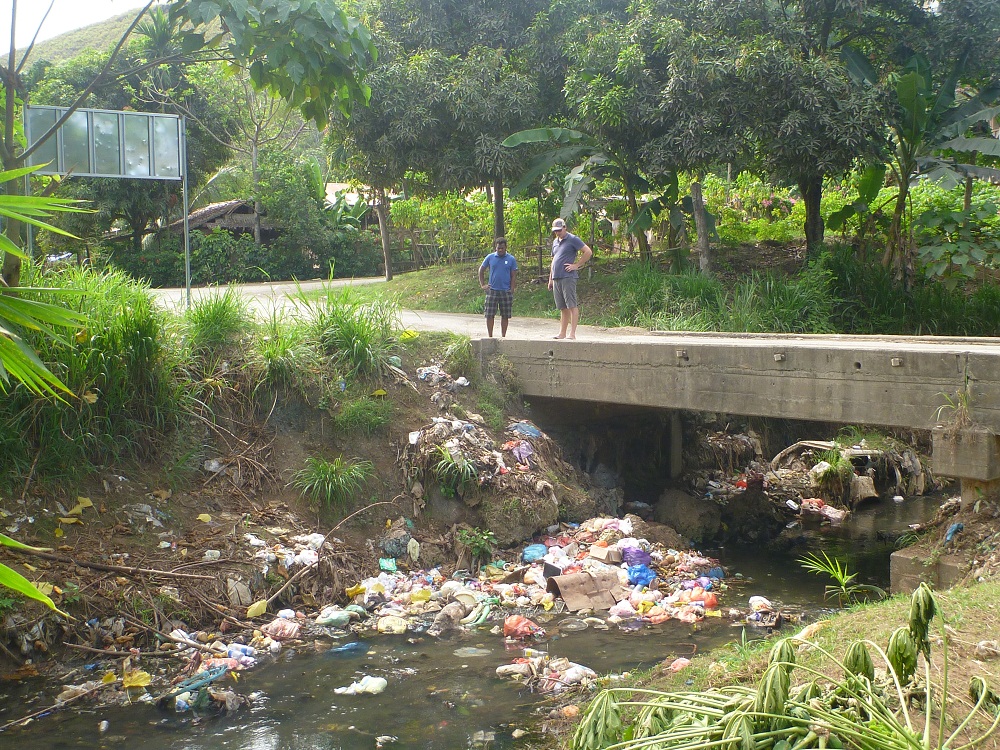 Gross pollutants in upstream Mataniko catchment, Honiara, Solomon Islands. Photo: PEBACC Project 
The participants expressed appreciation to the SPREP PEBACC project for the focus on strengthening ecosystems in Honiara and called for broader ecosystem based adaptation (EbA) approaches to secure their livelihoods in the city and promote sustainable development in Honiara.
"Our community have been living with the impacts of climate change on a daily basis especially the threat from coastal erosion due to sea level rise to our homes. In addition to that threat is our dependency on the Mataniko river which is highly polluted, however with very little choice we continue to use the river for domestic use," said Mary Noela Bibi, Renlau Community, Honiara.
"I hope that the ESRAM process identifies the threats to the Honiara ecosystems and will provide options to rehabilitate the river ecosystems that we are dependent on."
According to Mr Simba Zamba of the Prime Minister's Office, the ESRAM study will be an important tool for future planning and decision making.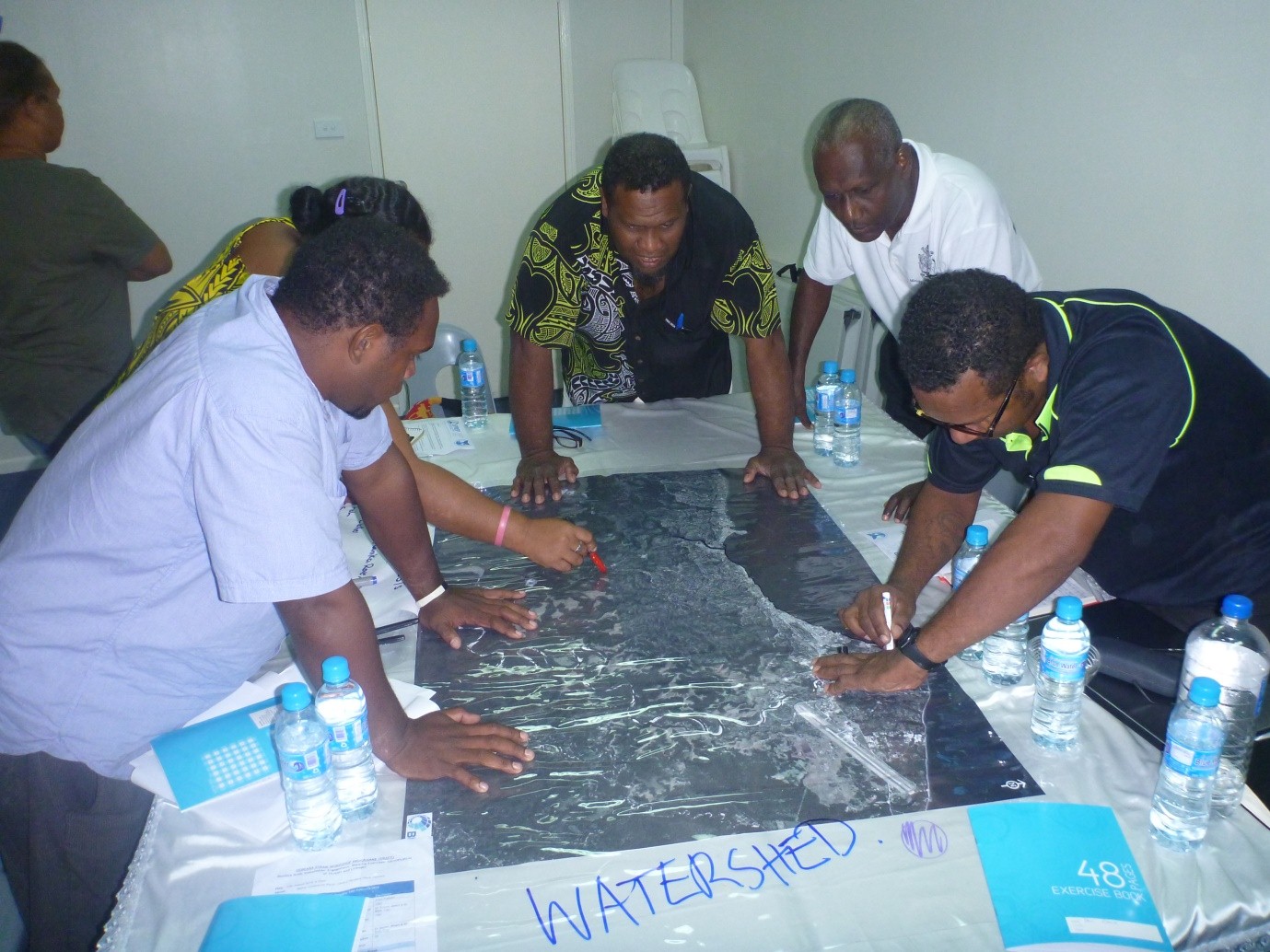 Participants mapping out ecosystems and ecosystem services at the workshop in Honiara from 9-10 August. Photo: PEBACC Project 
"Understanding the different ecosystems at the national level will help decision and policy makers plan better when it comes to sustainable natural resources management especially in trying to secure long term considerations and solutions to negative environment impacts and climate change," Mr. Zamba said.
The ESRAM study in Solomon Islands is expected to be completed by December 2016. The findings of the study will guide the implementation of the PEBACC Project in Solomon Islands.
The PEBACC project began in 2015 with funding support from the German Federal Ministry of the Environment, Nature Conservation, Building and Nuclear Safety (BMUB) and is implemented by SPREP in partnership with the governments of Fiji, Solomon Islands and Vanuatu.
For more information about the PEBACC project in Solomon Islands, contact Mr. Fred Patison, PEBACC Solomon Islands Country Manager at
[email protected]