The Pacific Environment Portal currently connects 14 national environment portals, providing tools for the monitoring, evaluation and analysis of an area larger than all of Earth's land combined. Thanks to these portals the countries can better plan, forecast, and report at the national, regional and international level.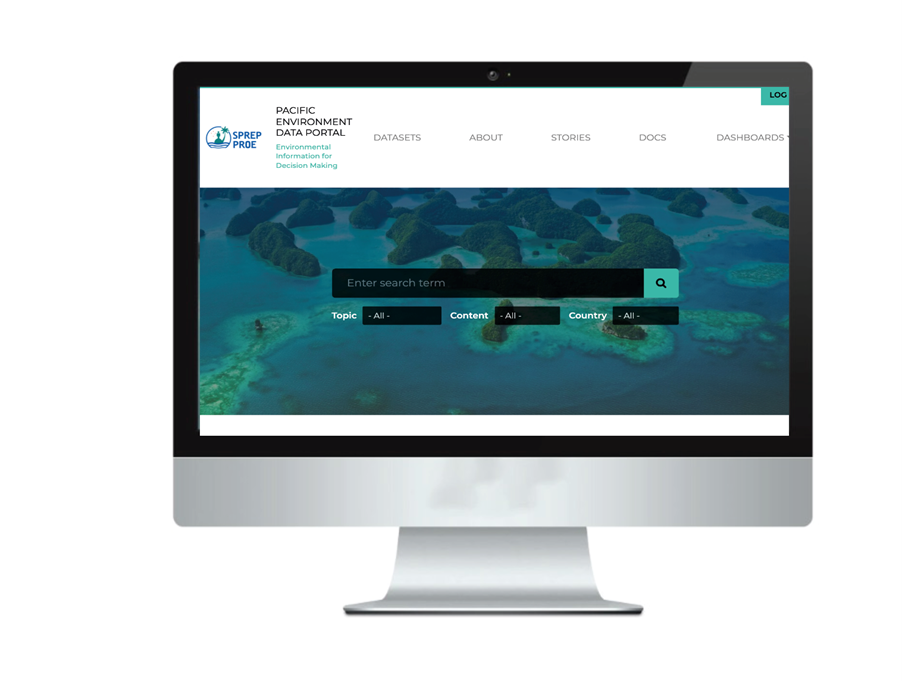 You can search by Atmosphere & Climate, Built Environment, Coastal & Marine, Culture & Heritage, Inland Waters, Land, Biodiversity and we continue to include more themes as demanded by the country members such as the latest addition; Nuclear Legacy.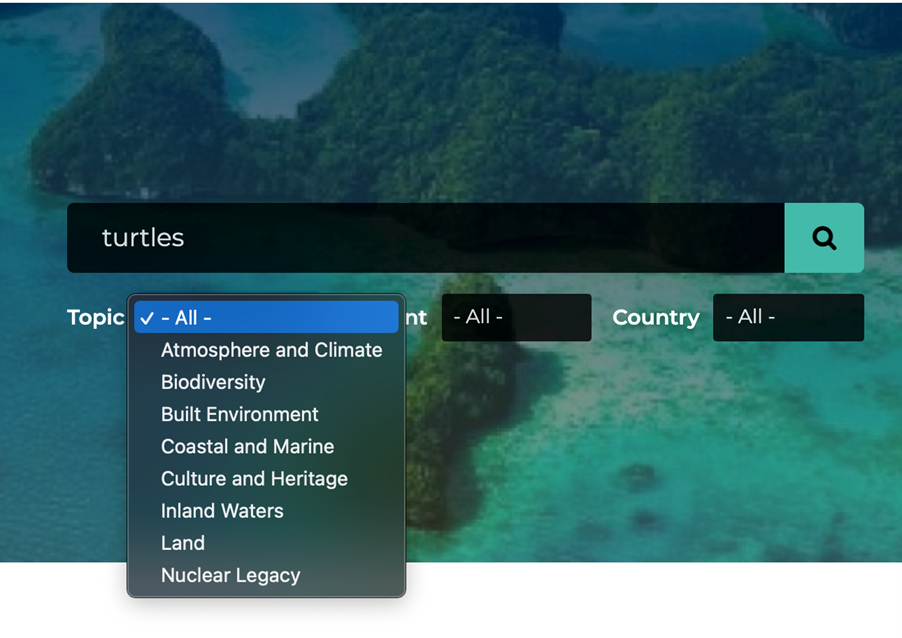 You can also search by the type of content: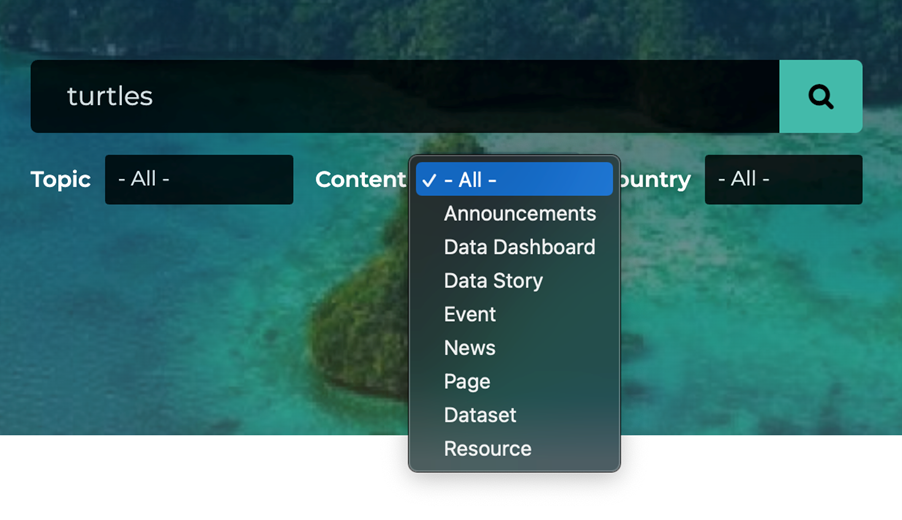 If you search by news, events or data stories you get the following results: 

Events: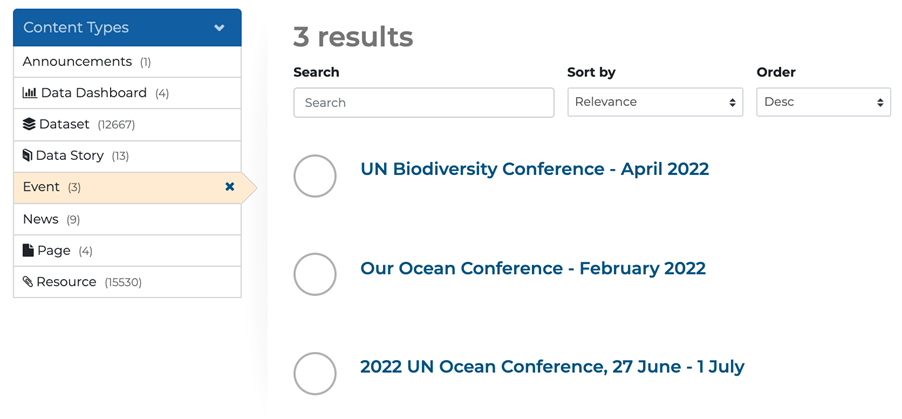 Or Data Stories:

You can narrow down your search by country including; American Samoa, Cook Islands, Fiji, Federated States of Micronesia, Kiribati, Nauru, New Caledonia, Niue, Palau, Papua New Guinea, Republic of the Marshall Islands, Samoa, Solomon Islands, Timor, Tokelau, Tonga, Tuvalu and Vanuatu.
Finally you can also do an open search such as in the example below: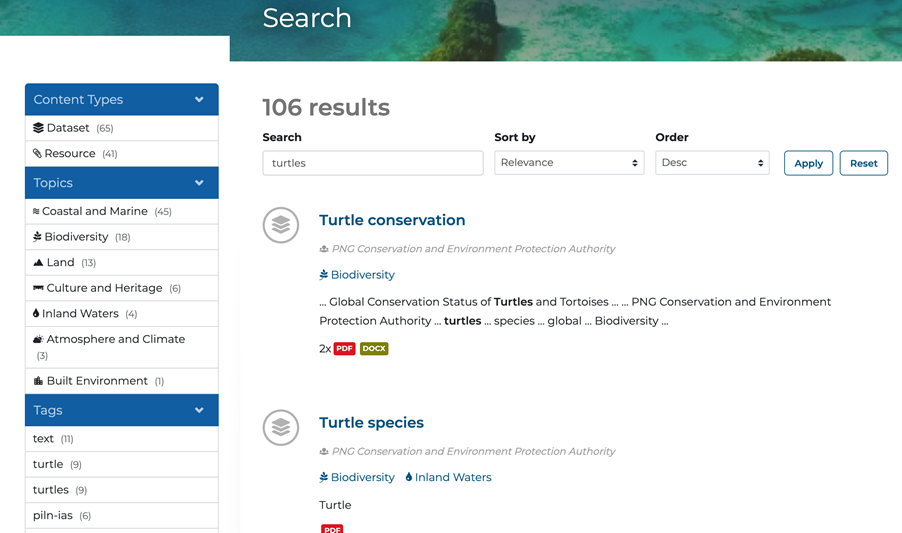 You are welcome to explore the data portals by clicking on the link below:
https://pacific-data.sprep.org
If you prefer to directly search a particular country here is a direct link to each of the portals by country and focal point you can contact for further information: 
Country

Portal URL

Focal point

Email focal point

Regional Portal

 
https://pacific-data.sprep.org

Paul Anderson

paula at sprep.org

Cook Islands

Elizabeth Munro

elizabeth.munro at cookislands.gov.ck

FSM

Cindy Ehmes

climate at mail.fm

Fiji

Senimili Balecakau (tentative)

senimili.balecakau at govnet.gov.fj

Kiribati

Nenenteiti Teariki-Ruatu

nenenteitit at environment.gov.ki

RMI

Clarence Samuel

clarencesam at gmail.com

Nauru

Bryan Star

bryanstar007 at gmail.com

Niue

Haden Talagi

haden.talagi at mail.gov.nu

Palau

Gwen Sisior

gsisior07 at gmail.com

PNG

Richard Balone

richbalone at gmail.com

Samoa

Francis Brown

fran.reupena at mnre.gov.ws

Solomon Islands

Rosemary Apa

rosemaryapa at gmail.com

Tonga

Lupe Matoto

lupe.matoto at gmail.com

Tuvalu

Lamese Saamu

jzonester at gmail.com

Vanuatu

Rontextar Mogeror

rmogeror at vanuatu.gov.vu